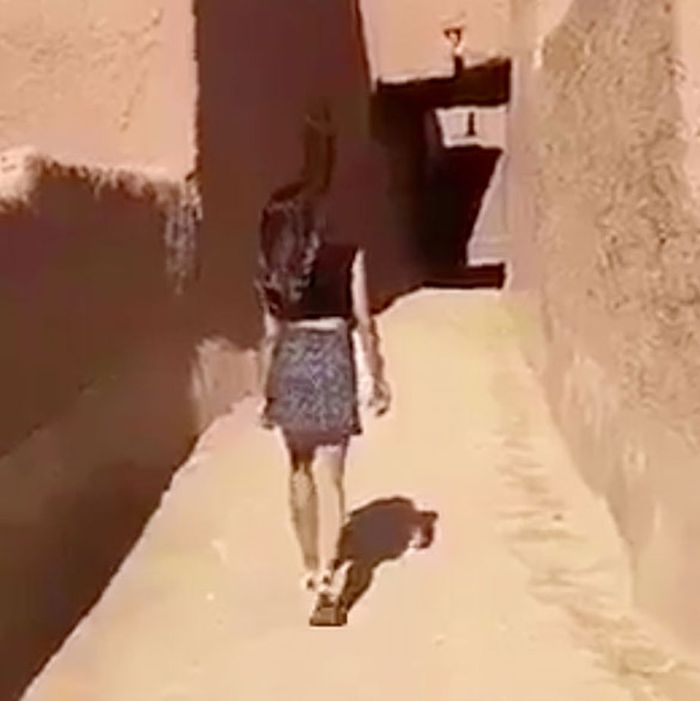 The video was posted over the weekend.
Photo: Courtesy of Twitter/KHALED_Z_KSA_24
A Saudi Arabian woman who filmed herself touring a fortress north of Riyadh, the nation's capital, in a miniskirt and a crop top is wanted by Saudi police, BuzzFeed News reports. The woman, who's named Model Khulood, posted the video to her Snapchat account over the weekend, and less than 24 hours later the country's Commission for the Promotion of Virtue and the Prevention of Vice allegedly put out a statement saying it was "coordinating with the authorities to investigate [the video]."
Police in Ridyah reportedly issued an arrest warrant for her, which, according to a translation, describes her as "taking photos in indecent clothing, disrespecting and violating the teachings of Islam, and violating the customs and traditions [of the country]."
Some Twitter users condemned Khulood for her outfit, while others pointed out that those calling for her arrest would have a very different reaction if a foreign women were wearing the same thing. For instance, one photoshopped Ivanka Trump's face onto her body with the caption, "Okay stop, we have solved the problem." (Neither Ivanka nor Melania Trump wore headscarves on their recent visit to Saudi Arabia.)
Saudi Arabian women are legally required to wear a long, robe-like garment called an "abaya" in public, and Muslim women living in the country must cover their hair. Some women also choose to cover their faces, although that's not a requirement. Khulood has yet to personally comment on the video, and so far there has been no news of her arrest.