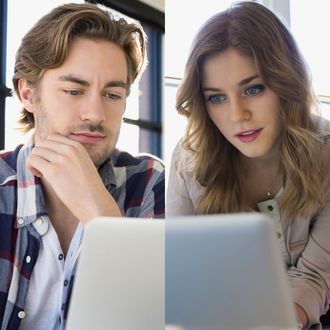 If you've been online, which, if you're reading this, you have, chances are good that you've been harassed. Forty-one percent of American people online have been the victim of some kind of internet harassment, according to a new study from the Pew Research Center. That's up from the last time this study was conducted in 2014. An even bigger group, up to 66 percent, have watched other people be harassed online. (Ever read a nasty Facebook comment about somebody? Seen an attacking tweet? Clicked through Rob Kardashian's Instagram account before the platform deleted the revenge-porn photos he'd posted of Blac Chyna? You've seen somebody getting harassed.) Broken down further, the study found that one out of every five people have been victimized to a serious extent, including "physical threats, harassment over a sustained period, sexual harassment or stalking." (Pew's lesser forms of harassment include name-calling and anything intended to embarrass someone online.)
Surprisingly, men are more likely than women to be harassed, with 44 percent of men to 37 percent of women reporting having been attacked online. (Pew's study operates on a gender binary and does not offer data on anyone who identifies as neither male nor female.) But while men might be experiencing harassment on a slightly more regular basis, the study found that women, particularly young women, tend to be more concerned about it, and that the harassment they face is often more sexual in nature than that faced by their male counterparts. "Broadly speaking, women are more likely than men (by a 70% to 54% margin) to say that people being harassed or bullied online is a major problem," Pew reports. And twice as many women as men (35 percent to 16 percent) reported their most recent harassment experience as being "extremely upsetting or very upsetting." If you've ever had the unpleasant experience of opening a DM to find a picture of somebody's dick that you didn't ask for — half of women between the ages of 18 and 29 reported being sent unwanted explicit content — you know the feeling.
So what are the platforms where this harassment is happening, and the people watching it happen, supposed to do. Well, it depends on who you ask. Over 60 percent of all men — and just over 75 percent of men between the ages of 18 and 29 — believe that people take offensive web content too seriously. While half of women believe the opposite, that it isn't taken seriously enough. Men are more likely to argue for free speech online, while more women reported that feeling "safe and welcome" was of greater importance. A third of women, as compared to a quarter of men, believe stronger laws are the best way to curb these issues. While men are more likely than women to believe the onus is on companies — Facebook, Twitter, Instagram, Reddit — to build tools to curb harassment. And those companies, while constantly trying to straddle the line between freedom of speech and creating relatively safe spaces, are trying. (Twitter rolled out some new filter tools yesterday aimed at helping users avoid unwanted interactions.) But given the number of people, mostly men, who think we're all freaking out too much about offensive online content, it's hard to see how effective those tools can actually be.