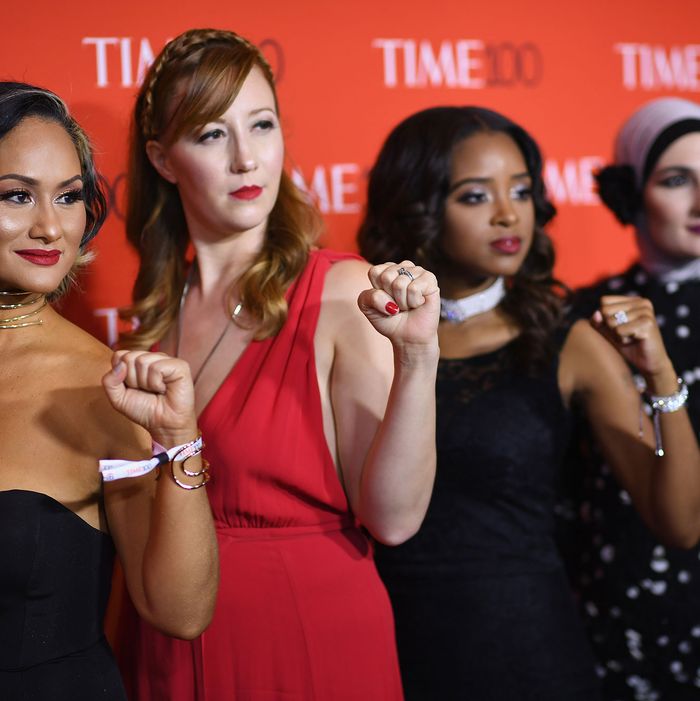 The Women's March organizers together at the Time 100 gala.
Photo: 2017 Getty Images
The historic Women's March on Washington is long over, but its organizers are carrying on the movement — according to HuffPost, they're planning a protest against the National Rifle Association on July 14. The protest is in response to a controversial ad released by the association in mid-June that calls on "law abiding" gun owners to fight back "with the clenched fist of truth" against anti-Trump protesters.
In the ad, conservative talk-show host Dana Loesch endorses an "us versus them" mentality, saying that liberals "use their schools to teach their children that their president is another Hitler … All to make them march, make them protest, make them scream racism and sexism and xenophobia and homophobia, to smash windows, burn cars, shut down interstates and airports, bully and terrorize the law abiding."
One of the Women's March organizers, Tamika Mallory, responded to the ad with an open letter, in which she demanded the video be taken down. "You are calling for our grassroots, nonviolent resistance movement to be met with violence," she wrote, adding that the video demonstrated "a complete disregard for the lives of black and brown people in America."
But instead of apologizing, the NRA released a second ad featuring another conservative talk-show host, Grant Stinchfield, that specifically called out Mallory for her letter:
"I'm talking to you Tamika Mallory. You wrote a letter to the NRA on behalf of the Women's March claiming our 'Clenched Fist of Truth' ad was an attack on minority communities " Stinchfield said in the video. "You call it dangerous and demand it to be taken down? I'm here to tell you not a chance."
And so, the Women's March leaders decided to organize. The protest will begin in Fairfax, Virginia, outside NRA headquarters, and will proceed with an 18-mile march to the Department of Justice in Washington. The Facebook event page calls for a demonstration "grounded in the principles of Kingian nonviolence, to denounce the false and intimidating rhetoric of hatred and send a clear message that our movement will proudly and bravely continue to strive for the respect of the civil and human rights of all people."
It also lists three demands: (1) that both ads be removed from social media; (2) that the NRA issues an apology; and (3) that it makes a statement defending the Second Amendment right of Philando Castile to bear arms and condemning the officer who shot him to death.
"We know that we are not safe," the description ends. "But we will not be intimidated into silence."