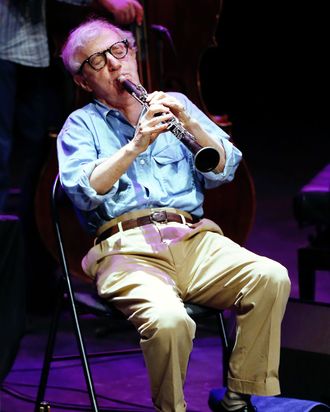 Woody Allen at a 2013 concert.
Photo: Getty Images
On Tuesday night, two topless protesters took to the stage during a concert by Woody Allen and his New Orleans Jazz Band in Hamburg, Germany, Variety reports.
The women were from Femen, the controversial feminist activist group known for protesting bare-chested and often with slogans written on their torsos; they've recently shown up at Donald Trump's polling site and at the unveiling of a Trump wax statue in Madrid. In this case, they wanted to bring attention to Allen's alleged history of sexual abuse.
Video shows them storming the stage and shouting, stopping the concert until they were escorted off.
Per the New York Times, they were yelling, "Stop the culture of silence!" On its Facebook page, Femen writes that they were also painted with quotes from Dylan Farrow's 2014 open letter in the Times. In it, Farrow, Allen's adopted daughter, claimed that he regularly assaulted her starting when she was 7 years old. For his part, Allen has previously said he has "no interest" in discussing the "tabloid stupidity," while he reportedly called last night's protest "stupid."