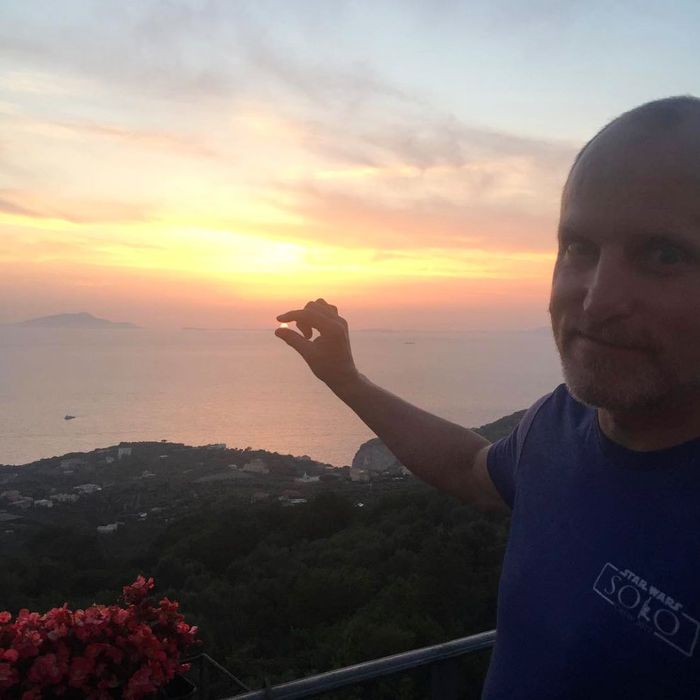 Makes you think.
Photo: Courtesy of Instagram/woodyharrelson
If you find yourself at a spiritual crossroads and in need of some guidance, look no further than my favorite corner of the internet, where a man clad in a hemp tunic offers all the wisdom you could ever possibly need: Woody Harrelson's Instagram account.
On Monday, the Hollywood girl-squad guru's account made headlines after he posted a picture of himself hanging out with Jennifer Lawrence and Amy Schumer. But in reality, Harrelson's Instagram is much, much more than just a spot for occasional videos of him and Owen Wilson riding bikes down a hill in London. It's also my favorite self-help book, filled with inspirational memes and moving pictures of nature that offer wisdom that's simple yet eloquent, succinct yet profound.
Each of his posts are accompanied by captions like "Gd advice !" and "Gd advice a friend sent me," and are geared to help you grapple with complex issues ranging from feminism to religion to politics.
In one particularly self-help-y post, with the caption, "Cool tip i got today," Harrelson shares an excerpt from Matt Haig's self-help memoir, Reasons to Stay Alive. Entitled (appropriately) "Self-help," the post reads: "How to stop time: kiss. How to travel in time: read. How to escape time: music. How to feel time: write. How to release time: breathe." Now we know that when life gets us down, we just need to make out with some people, jam to some Grateful Dead tunes, and breathe.
Harrelson has also posted an important picture of some art he presumably found hanging up in a beach house, instructing us all to "Be Shore of Yourself," "Come Out of Your Shell," "Avoid Pier Pressure," Don't Get Tide Down," and other ocean-related advice that could be applied to all problems a person could ever face in this crazy thing we call life.
There's a post comparing politicians to sperm to help us cope with the current tense political climate, and a shot of Harrelson pinching the sun in the distance of the Amalfi Coast. There's also a video of a dude unknowingly causing himself to get hit in the balls by a shovel, and an image of a mountaintop with the caption, "God's art." Each of these posts shows us just how simultaneously small and big we are in the grand scheme of things. They remind us that we aren't in control of the universe — but we are in control of how we react to it, just like the guy who hit himself in the balls.
Unfortunately, the account has only been active since January and there are sadly less than 60 posts to date, so maybe don't fire your therapist just yet. But when you're seeking a spiritual nudge in the right direction, be sure to stop by Woody's Instagram for the inspirational meme of Angela Merkel pushing a baby Donald Trump in a toddler push-buggy car that you so desperately need.