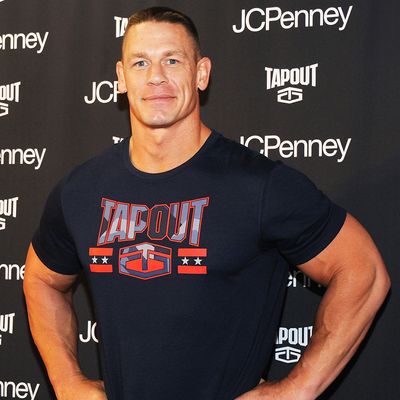 John Cena.
Photo: Desiree Navarro/WireImage/Getty Images
You wouldn't think a pro wrestler would have relatable wellness tips, but John Cena defies expectations. The WWE superstar has been everywhere lately. He has two movies — including Daddy's Home 2 — coming out later this year, he recently got engaged, he's the brand ambassador for JCPenney's Tapout fitness-apparel line, and he can often be spotted working with the Make-A-Wish Foundation. Below, he talks to the Cut about how he's obsessed with moisturizer and intimidated by barre class.
How I sweat: I love physical fitness, but what I love about it is being strong, so my physical fitness is geared toward strength. A lot of people enjoy general fitness, so what a lot of people do, I don't. I do very low repetitions in the one-to-three-to-five range. A lot of the workouts take a long time, and to an innocent bystander, they would be boring AF. I found what I like to do and what keeps me goal-oriented, so that when I get out of the gym I'm like, "I can't wait until I go back next time to try to do better than I did this time." So it's very, very much like an Olympic strength athlete.
On eating clean: I take the approach of keeping it simple, so as far as diet goes, I make good choices. We all know what is good for us and what is bad for us. I try to make as many good choices as I can, and stay on top of my water intake, and that's it. We know what foods are pure crap, and those are the foods we all like to indulge in. I just minimize my indulgence. I like ice cream, donuts, French fries, pizza as much as the next person. But you can't have those all the time, so I just try to eat clean and I do indulge — I enjoy living, I enjoy food — but I'm just conscious about every choice I make.
My skin-care routine: Moisturization. Constant moisturization. It's not to an obsessive level, but just make sure you're clean. I'm always clean-shaven, so in a weird way, the shaving could also be an exfoliant. I never deduced that, but we may be onto something. There are a few brands that have men-specific moisturizers, because some of other the scents are very female-scented. For a while I was using Vaseline for men, and Lubriderm came out with men's, and Jo Malone — I like that as well. It's very strong-scented, but it's a very good moisturizer. So you can go from really high-end to more affordable and still get good products. And I don't have endorsements with any of those folks; I actually just use their products.
Wellness, to me, is: The successful function of spirit, mind, and body. Being aware of how you feel emotionally and not afraid of it, even when you have good days and bad days. Doing your best to keep your mind sharp. I've chosen to try to learn a second language, and I'm trying to learn how to play an instrument — I've been studying Mandarin for a few years, and I'm messing around with the piano — just because those are active things that I wouldn't have done before this. I just want to learn things about things. And physically making sure that I'm capable of moving like a human being and not like a brittle piece of carpet.
On that viral Christmas sweater: Every year, my lovely better half Nicole is kind enough to spend Christmas with my family in Massachusetts, and a tradition that she started — that we keep, four years later — is the ugly-sweater Christmas Eve. I got a tip that my brother was going to have a sweater with lights, and that's where I was moving toward, a LED sweater, but I didn't want to steal his thunder so I went out and got a 3-D sweater, which had a reindeer on it (or a moose).
I thought it was awesome but I got a lot of flak for it. I guess people were like, Man, he needs to check his sweater game at the door. But I thought it was pretty cool. I wore it out the whole day. I took Nicole to breakfast in the small little town where I'm from, and we had a great day of it. It was fun.
My best wellness hack: The whole thing is a hack — legit, we're all overthinking it. Print that: We're all overthinking it. It's just, we know the way to be healthier because we always tell ourselves, I need a trainer. Why? Because you're not moving around enough. Move around some, make good choices, and just do it every day, be consistent. The moment when you're like, Ah, I don't want to do this. Stop. And if you really don't want to do it — you haven't found the right thing yet.
Nicole and I train very differently, but we both love what we do. So she goes one way to do a workout, I go another way, and we both come back exhausted and fulfilled, ready to attack the day and do it again tomorrow. She loves Pure Barre, but I wouldn't last a second there. And if I were to walk into Pure Barre every day, I would hate my life, because I would hate it. But she loves it — just like I wouldn't ask her to do 102 percent of her max for a clean and jerk, or do a 60-week squat protocol that leads up to a 105 percent rep max. That's what I do, and that's what I enjoy.
So it's just about finding what you like. The whole thing is a hack, because we always overthink it. I've got to do XYZ with my diet, and I've got to do everything… Just make good choices, man. You know what's good for you, and you know what's bad for you.
On dieting: At a young age, when I was just fascinated with the fitness industry — and I mean young, like 15 through 18 — I tried, like every teenager, to gain weight. Just mass feeding myself to gain weight, and I was doing a ton of activities so I could eat a lot. I've always been able to eat a lot, and then it kind of caught up with me these past few years, because I turned 40 in April. So this has really been the place where I've had to retell myself, "Okay, make sure you make good choices every day."
How I cool down after a WWE match: I just reflect on what happens, and then realize I've got to do it again soon. It's a fast-moving business, where you don't have a lot of time to appreciate what's going on, so those moments immediately after it happens are cool moments of reflection and appreciation.
On working with the Make-A-Wish Foundation: If they were in my position, they would do the exact same thing. I know that to be true, because it's just so awesome. It really is. I appreciate when people are like, "Oh, that's a really cool thing that you do." But I would be offended if you didn't do the same thing if you were in my shoes. You are requested by people — so it's like, "I want to hang out with that person" — and that alone is really cool. And then when you see the effect you have on those people, when you hang out with them, it's just really cool.
This interview has been edited and condensed.