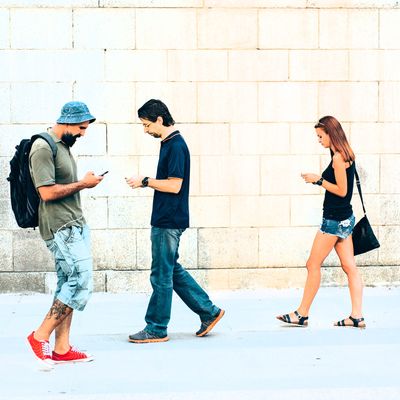 Photo: Todor Tsvetkov/Getty Images
Hey, you. Yes, you. I have a little bit of news, and it's going to be kind of hard to hear, so maybe brace yourself. Are you ready? Okay. Here goes: You're not as good at texting on the go as you think you are.
It's okay! It's nothing to be ashamed of! As a frequent texter-slash-walker – and someone who's spent a long time believing I can pull off the combo effortlessly — I'm having a little bit of a hard time with it, too. But that's the conclusion of a small study recently published in the journal PLOS One and highlighted by Shaunacy Ferro at Mental Floss. Ferro explained:
Scientists from Anglia Ruskin University in the UK recruited 21 young people to text and walk under observation. The participants promenaded along an 18-foot-long walkway that contained a fiberboard a few inches high and a step-up box (like you'd find at a gym) designed to trip them up. They navigated the walkway 12 times each: without their phone, while talking on their phone, while reading a text, and while writing and sending a text.
As you may have guessed by now, the results were not great for those who consider themselves top-notch texting multitaskers: People took more than twice as long to get from one end of the walkway to the other when they were writing a text, and 67 percent longer when they were reading one. (Talking on the phone, interestingly, was somewhere between the two, taking people 83 percent longer to cross the walkway than the control condition.) What's more, they looked kind of funny while doing it: The distracted walkers tended to use what the study authors called a "cautious stepping strategy," taking shorter strides and lifting their feet higher off the ground to prevent tripping. A similar study from 2015 found that texters also had a tougher time walking in a straight line.
The upside, as Ferro noted, is that no one fell down — "If anything," she wrote, "this study shows that distracted walkers are a little more careful than we give them credit for." Still, all the evidence points to the idea that it's probably best to separate texting and walking into two distinct activities. Even if you don't distracted-walk yourself into traffic (or another person, or a lamppost, or a garbage can), your journey may just be a little longer, and a little more awkward-looking, than you imagined.