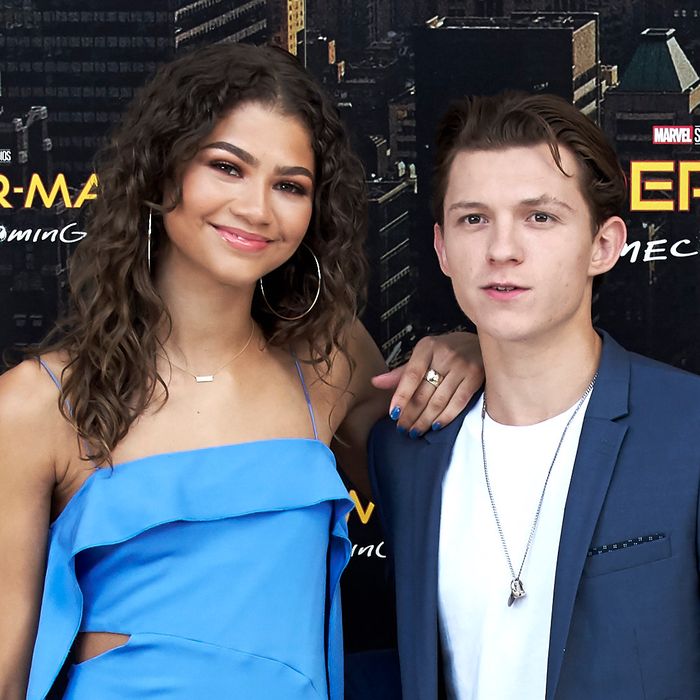 Zendaya and Tom Holland.
Photo: Carlos Alvarez/Getty Images
Tom Holland and Zendaya, stars of Spider-Man: Homecoming, are reportedly dating, a source who probably isn't one of their publicists told People.
"They started seeing each other while they were filming Spider-Man," the not-publicist said. "They've been super-careful to keep it private and out of the public eye, but they've gone on vacations with each other and try and spend as much time as possible with one another."
The pair is rumored to have been dating for almost a year. Back in April, an "insider" told Life & Style that "Tom has practically moved into Zendaya's new L.A. mansion and has barely left her side."
This would make Zendaya and Holland the third Spider-Couple. Founding Pussy Posse member and upside-down kisser Tobey Maguire started dating co-star Kirsten Dunst while filming Spider-Man in 2002, and Emma Stone and Andrew Garfield got together after working on The Amazing Spider-Man in 2012 — before he announced he was gay.
Update, 9 a.m.: Zendaya and Holland set the record straight that Holland has not in fact "practically moved into Zendaya's new L.A. mansion."
Spider-Couple, we hardly knew ye.