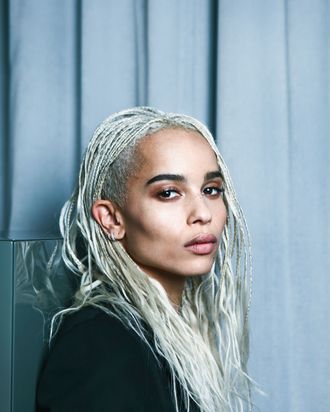 Zoe Kravitz for YSL Beauty.
Photo: Elodie Daguin
For her enviable skin, Zoë Kravitz credits the work of a goddess. For her radiant, barely there makeup aesthetic? These days, Kravitz will likely chalk it up to YSL. The beauty division of the fashion powerhouse just named Kravitz as the brand's global makeup ambassador.
The announcement marks the year's second shake-up for YSL Beauty: In January, makeup wizard Tom Pecheux left his post at Estée Lauder to join as global creative director. Conversely, Kravitz has been a part of the YSL Beauty team for over a year now. Starting in 2016, she served as the brand's U.S. ambassador, but this latest appointment ups her presence within the company. In a press release, YSL Beauty wrote: "Zoë will kick-start her international role with the first of several groundbreaking campaigns — Tatouage Couture — launching in August 2017. She is the perfect fit for YSL's own inventive, defiant, and stylish heritage."
Adding to YSL's statement, Kravitz had this to say: "YSL has always been one of my favorite brands … Nothing is forced, nothing is fake, but everything is bold, strong, and unafraid."