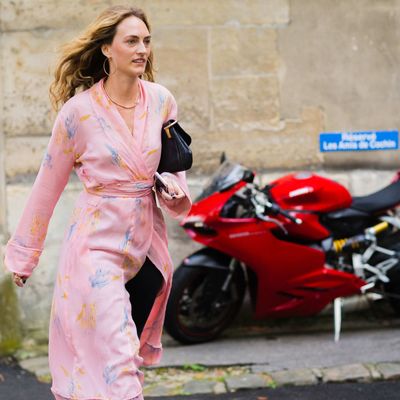 Cheap and Cheerful is a weekly column that highlights the chicest inexpensive finds. Because nothing's more satisfying than looking good while spending less.
We're coming upon that weird time of year when it's too cool to go out without a top layer but too warm for an actual coat. You could buy a field jacket, of course, but if you want something with a little more color, try a silk robe. It'll be just substantive enough to keep you warm when you're hanging out on a rooftop on a chilly night in September, but still thin enough to ball up and store in your tote when it's hot the next day.
If you need lessons on how to make a silk robe work for you, take a cue from Attico. The young Italian label's first season was comprised almost solely of beautiful robes worn as top layers. (Designer Gilda Ambrosio wears hers over coats and loose, drapey dresses.) Keep the look elegant — and not too pajama-esque — by going for a rich fabric with an interesting pattern. Avoid anything with too much of a sheen, or any color palette that feels garish. Scroll below to shop our favorites for under $130.
A Chic Robe for Under $30
The patterns, the embroidered sleeves, and the color palette make this look much more expensive than it is.
When You're Bored of Your Casual Uniform
This robe is more decorative than insulating. Wear it on warm days to add some interest to a basic outfit.
The One That's As Pretty As a Painting
Buy the matching slip dress for a coordinating floral set.
A Non-Basic Take on Neutral
The eye-catching print brings some drama, but the color goes with everything.
The One for Petite Frames
This robe is tailored to be the perfect length for shorter frames. On taller folks, it still hits nicely around the lower legs.
The Designer-Inspired One
I love Elizabeth and James's $600 robe, but I'll probably buy this one.
The fringe sleeves add a festive touch that makes everything underneath feel elevated.
The velvet is punctuated with mesh panels, so you won't die of heat exhaustion.
A Vintage-Looking Robe Without The Hassle
Vintage shopping requires patience, determination, and caffeine. Here's a vintage-y robe in case you don't have all three.
There are two types of people in the world: those who embrace the overt sweetness of florals, and those who flinch at the thought. Here's an option for the latter.
If You're a Late Bloomer to Florals
If an all-over decorative print strikes you as overzealous, why not compromise with a pretty motif at the bottom?
If you buy something through our links, New York may earn an affiliate commission.