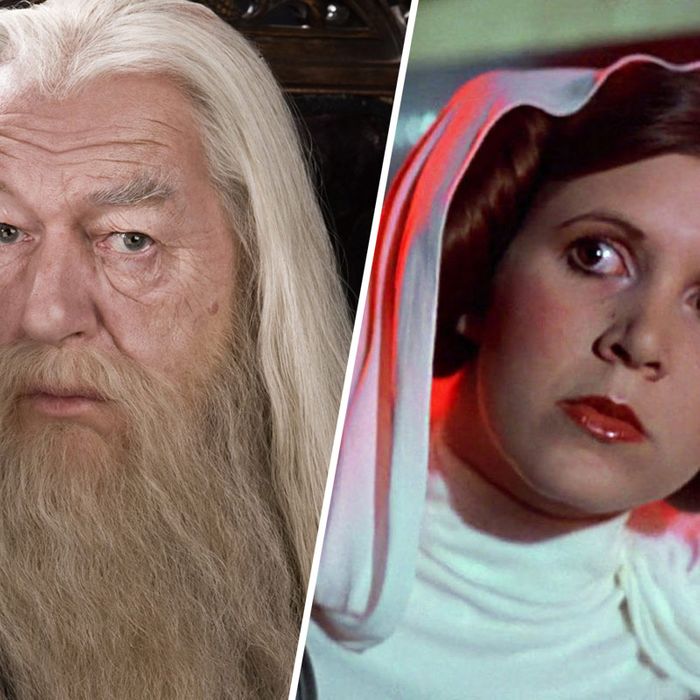 Photo: Warner Bros., LucasFilm
Gone are the days when a book or a movie simply ended — now, it seems, we're always finding out something new about our favorite fictional characters long after the fact. Over the years, J.K. Rowling has shared a seemingly endless series of major revelations about Harry Potter characters on Twitter, like revealing that Dumbledore is gay or that Hogwarts tuition is free. And this weekend, a lesser-known bit of the Star Wars canon resurfaced: In 2004, George Lucas revealed that Princess Leia also had a PhD the entire time. Here are 13 other things you didn't know about your favorite literary characters, whether or not you wanted to find out:
• Anna Karenina hated mayonnaise.
• Beowulf was allergic to bees.
• The grapes in The Grapes of Wrath were Riesling.
• Following the death of Gatsby, Nick Carraway became a DJ.
• Odysseus was pro-choice.
• Ramona Quimby was a Phish-head.
• Babe the sheep-pig comes to view "babe" as trivializing and objectifying, changes his name to Brendan.
• After moving back to the Shire, Pippin and Merry start an organic bean-to-bar chocolate company.
• Lydia Bennet becomes a hugely successful Instagram influencer.
• The painting of Dorian Grey has a successful late-in-life career as a Viagra spokesperson.
• The boys from the Lord of the Flies island launch an eSports-betting site.
• Moby Dick becomes a celebrated body-positivity icon.
• Cathy from Wuthering Heights rebounds from Heathcliff by briefly dating John Mayer.