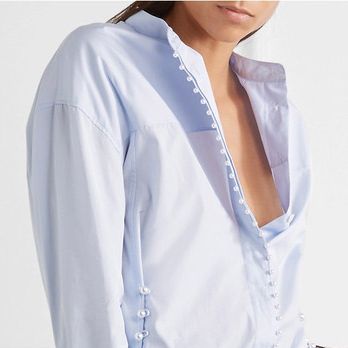 Photo: Courtesy of Net-a-Porter
Once in a while, a trend appears on the runway, trickles down to your local mall, and then lodges itself firmly inside your brain. Now Trending is our weekly roundup of where to buy that look that's been haunting you.
Is there anything fussier than a pearl necklace? Unless you're taking style cues from Betty Draper, the classic chain of pearls probably has limited use in your wardrobe. But they are making a comeback — just reimagined as buttons, trims, and hidden treasures under collars and sleeves.
Pearls have been making the rounds in accessories for a while, under Nicholas Kirkwood heels and along the straps of Miu Miu's furry slides. Brands like Marc Jacobs are using oversized pearls to embellish sleeves, and fast fashion has taken note. One thing all these pearls have in common: they don't feel too dainty or precious. Read on for seven tops that show off the trend.
There's just enough interest added to a classic white poplin.
If You're Really Into Trends
Between the pearls, ruffles, and banker stripes, it's a triple threat of trends.
A feminine neck tie and a pearl-studded hem feel fresh, not stuffy.
The pearls are a unexpected pop against the pattern of the moment.
The past year, we've seen almost every way standard cotton poplin can be folded, embellished, and manipulated. The trend is going strong with pearl tailor-like pins.
Sweater weather is almost here. Pair with ugly pants and feel the warm glow of trendiness.
Best Extreme Take on the Trend
Why not make a statement with an origami fold and oversized studs?
If you buy something through our links, New York may earn an affiliate commission.