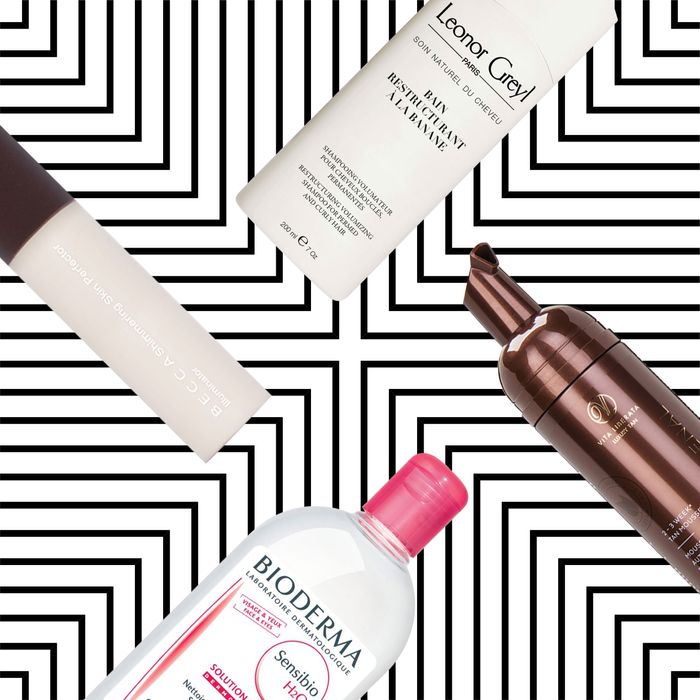 I refuse to believe that summer is over. August is the best, and I wish it would last forever. All you people who talk about summer being over are honestly just mean. Whatever your feelings about fall, here's another good beauty sale to cushion the blow: Dermstore is taking 20 percent off for Labor Day (code LONGWKND). It's not as extensive as their last sale, but there are plenty of beauty products for those sunny days of September — which is really just the last month of summer, if you ask me.
Trust a country with a predominance of pale people to make the most believable self-tanner. Irish brand Vita Liberata makes this easy-to-apply mouse, which gives you a three-dimensional tan that looks neither brown nor orange. It lasts at least two weeks without splotches, stripey marks, or fading. Don't believe me? Kim Kardashian is also a fan. (If you do buy this, spring for the mitt to prevent stained hands.)
Original Price: $54
The Highlighter That Will Help You Remember Warm Weather
Beauty company Becca was built upon this stellar highlighter (and later sold to Estée Lauder for $200 million.) A pressed powder, it makes your cheekbones look like an iPhone flashlight is shining exclusively on them. The texture is velvety and doesn't dry out, and the mica is so fine that there aren't any obvious chunks of glitter or shimmer.
Original Price: $38
The Shampoo for Preserving Your Summer Highlights
A while ago, I asked professional hairstylists how they deal with their hair after the gym. One, Ashley Streicher, recommended this incredibly gentle shampoo, which barely suds in the hair (it is, however, still a shampoo and not a cleansing conditioner.) It's gentle enough that you won't feel guilty for flouting your hairstylist's advice and using it every day. Your hair will look soft and bouncy and smell lightly like a banana milkshake.
Original Price: $45
The Cleanser That Gives You a Fresh Start for Fall
Madonna's dermatologist has a solid line of microdermabrasion products. Use this one to liberate your face from all the gunk you accumulated waiting on sweaty subway platforms. It doesn't contain any microbeads that will kill sea otters — just very, very fine exfoliating grains along with a light acid that makes it doubly effective at easily sloughing off dead skin. Highlighter is nice, but a good exfoliator is how you really make your skin glow from the bottom up.
Original Price: $79
The Fancy Soap That Massages Your Face
The Erno Lazslo brand is legendary: Police even found jars of Erno Lazlo moisturizer on Marilyn Monroe's estate following her death. This anti-bacterial mud bar creates a sudsy lather that won't dry out your skin. You can also use it as a face massage tool — great for de-puffing after too much rosé.
Original Price: $38
The Makeup Remover Celebrities Love
This is the most frequently seen product backstage at Fashion Week, and is used by everyone from Solange to Karlie Kloss. There are plenty of brands stateside now trying to make micellar waters, but make no mistake, Bioderma was the O.G. Use it to remove even the strongest of waterproof makeup, and be amazed at the way it leaves behind no tacky or oily residue. Best of all, you can dip a Q-tip into this and use it to smudge out your eyeliner or make your cat-eye extra pointy.
Original Price: $15
One More French Beauty Product You Need to Know About
The trope of French girl beauty is tired, but bear with me. French girls (and girls who moved to France because they fell in love with a French ballet dancer, like Natalie Portman) use what's called a "cleansing milk" to wash their faces. Put very simply, it's a face wash that feels lotion-y at first but mixes with water to create a sudless, silky cleanser. People like it because it's light and easily removes makeup without making your skin feel dry or stripped. Cleansing milks can be expensive (Portman uses one that costs $98) but Yon-Ka's is reasonably-priced and just as good.
Original Price: $39
The CC Cream That Will Get You Compliments
I wore this for a week straight and people kept asking me what I was doing differently with my skin. At first, I thought I had finally figured out the optimal place to apply highlighter or that I was frequently stumbling into good lighting. Then I stopped using it, and the compliments stopped. The texture can be a little thick but it easily sheers out, and it lasts all day without giving you oil-slick face.
Original Price: $40
The Best "Healthy" Deodorant
Sadly, though summer ends, pit smells are seasonless. This deodorant is aluminum-free, and you don't have to apply it by scooping your fingers into a jar. It lasts the whole day, even if you work out. It also smells nice — like a fancy, floral, vanilla-scented tea.
Original Price: $16
If you buy something through our links, New York may earn an affiliate commission.