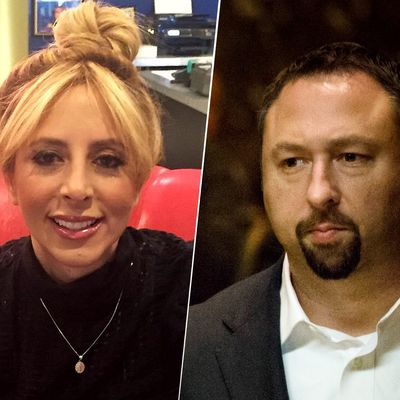 A.J. Delgado and Jason Miller.
Photo: Courtesy of Twitter/AJDelgado13; Getty Images
Last week, former Trump transition adviser A.J. Delgado and former Trump communications director Jason Miller confirmed that they have a child together, a son named William. The rumors of their extramarital affair had abruptly put an end to Miller's tenure back in December, though Miller released a statement to "Page Six" saying that he, his wife, and their daughters "are excited to welcome William into the world and into our family." Delgado quickly countered that on Twitter, saying that this was "news" to her and that she would be telling her side of the story to The Atlantic.
Among Delgado's claims:
• The couple started dating in October 2016, and Miller had told Delgado he was separated from his wife at the time.
• When she told him she was pregnant, he reportedly said, "Well this is going to be extra awkward for me to handle because my wife is expecting."
• Miller asked Delgado if "there was any chance" she'd "terminate the pregnancy," a claim he denies. (Delgado is a conservative Catholic.)
• She felt abandoned by "very high-profile people who are supposedly pro-life … who didn't reach out," like Kellyanne Conway.
• Miller "disappeared on the pregnancy" until June, immediately forced her to take a paternity test, and has not paid child support.
As The Atlantic also pointed out, their post-Trump fortunes have ended up quite differently. Miller has a cushy consulting job and appears regularly on CNN, while Delgado no longer works in politics and has moved back in with her mother in Miami.