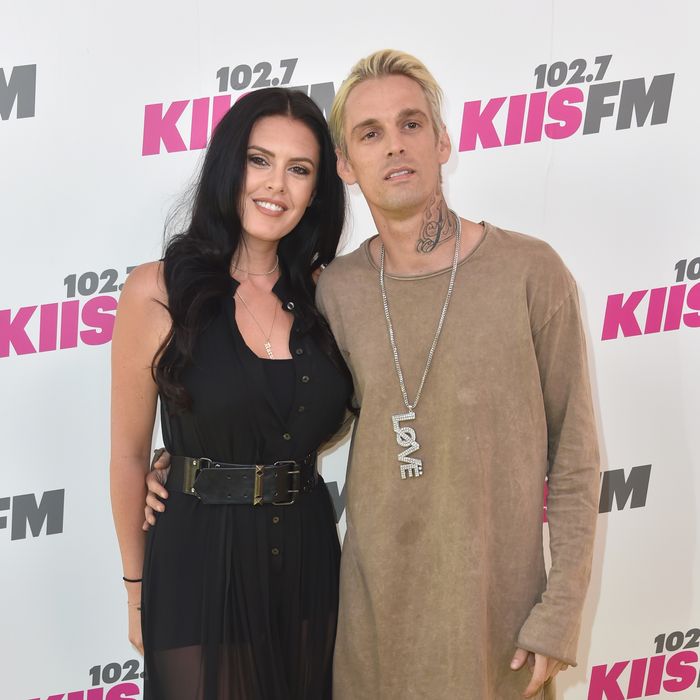 Madison Parker, Aaron Carter.
Photo: Frazer Harrison/Getty Images
Before he was asking out Chloe Grace Moretz via Twitter, Aaron Carter was dating Madison Parker. One day after Carter shared an emotional statement in which he revealed he identifies as bisexual, they broke up.
During an interview with The Bert Show, Carter said he had discussed his sexuality with Parker, "and she didn't really understand it. She didn't want [to]. And that was it. So we left it mutual and parted ways."
However, he responded to a fan's tweet implying that the split was because of his sexuality with "we will both always love each other."
Parker, in an exclusive statement to E! News, said the breakup had been coming for a long time and was not because of his announcement.
"My split with Aaron has nothing to do with him being bisexual. Our parting of ways is something that has been coming for some time and it's the best thing for us both. Some of my closest friends and loved ones are of the LGBTQ community, people I love and support wholeheartedly, so for Out.com or anyone to label me 'homophobic' is appalling and hurtful and couldn't be more off character. I've been nothing but supportive of Aaron and his career and I'm happy for him that he's having the courage to live his truth. Breaking up is never easy for anyone, but it is my hope that we can move on from this point as peacefully and respectfully as possible. I wish him all the best."
Carter has not yet responded to Parker's statement, but has turned down a fan who asked him out via Twitter.