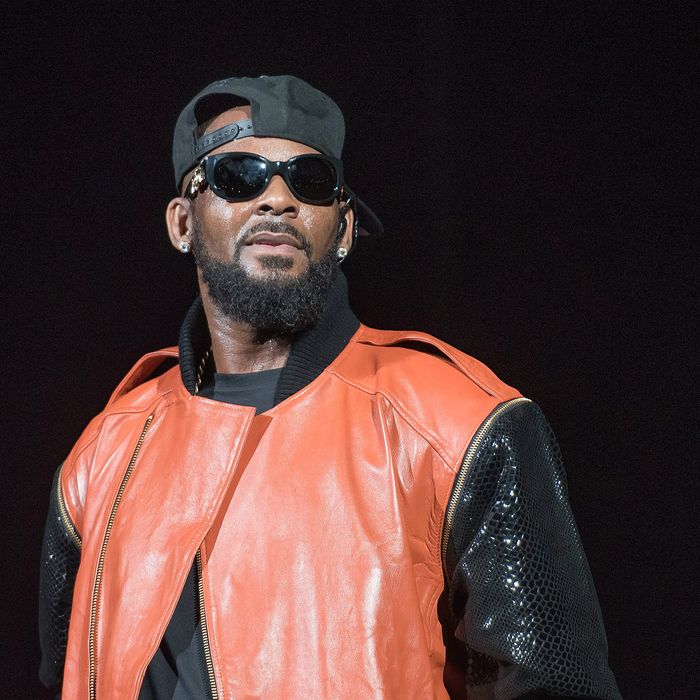 R. Kelly
Photo: Mike Pont/Getty Images
In the latest R. Kelly article from reporter Jim DeRogatis for BuzzFeed News, an alleged victim of the singer named Jerhonda Pace claims she received "cash settlements from the star in return for signing nondisclosure agreements" designed to conceal his sexual relationship with the then-16-year-old. Now 24, Pace says she's violating a nondisclosure agreement she signed with the singer to speak to BuzzFeed News, spurred by reports that Kelly is controlling other young women whom he keeps isolated in a "cult."Says Pace, "I didn't have anybody to speak up on my behalf when I was going through what I was going through with him. He's brainwashed them really bad, and it kind of reminds me of Charles Manson." When contacted by authorities in relation to the recent allegations against the singer, a least one women in question has publicly declared that she is of age and engaged in a relationship with R. Kelly completely of her own free will. The singer has denied all claims made against him.
While a Chicago high school sophomore in 2008, Pace, then Jerhonda Johnson, met Kelly outside his child pornography trial; a super fan, she had cut class to sneak into the court room despite being under 18. Kelly was subsequently acquitted of all fourteen charges and someone from the singer's camp reached out to Pace via MySpace, inviting her to a party at his home in Olympia Fields, Illinois. Bizarrely, while attending a different Olympia Fields party at a later date, Pace recalls seeing the alleged victim from the very sex tape that landed Kelly in court in the first place; she recognized the girl, Pace says, from seeing the tape in court. Pace subsequently began a relationship with Kelly, during which the singer would allegedly film their sexual encounters without the teen's permission. Pace alleges Kelly became more controlling over time, dictating how she dressed and when she could eat, shower and leave the grounds. If Pace violated any of his rules, she claims, Kelly "mentally and physically abused" her.
Having left the relationship in 2010 after what she describes as a violent incident ("I was slapped and I was choked and I was spit on," she says), Pace contacted Chicago lawyer Susan E. Loggans. Loggans was known for representing underaged women in lawsuits against R. Kelly, so much so that she advertised the fact on her website and in advertisements. At least three young women had successful received settlements after filing claims against the singer for having sex with them when they were minors. Within a matter of weeks, Loggans had negotiated a settlement for Pace in exchange for her signature on a nondisclosure agreement and confirmation she would not file criminal charges against Kelly. BuzzFeed News says they have reviewed signed legal documents between Pace and the "Trapped in the Closet" singer's camp, including drafts of settlements, correspondence with Kelly's attorney, "a probate court document opening an estate for Pace as the result of a civil settlement, and a subsequent payment made by Kelly's management company to Pace."
Though the agreement she signed contained a "non-disparagement clause," Pace is now speaking publicly about her experience with Kelly and is reportedly considering filing criminal charges. "I know speaking out against Kelly, Kelly could sue me. But I'm really not worried about it anymore," she explains. "I feel like this is a healing process for me, because I've been holding this in for so many years, and to see that he always gets away with it, it's just not right. I'm just going forward with my head held high." Vulture has reached out to R. Kelly's representatives for comment and will update this post with additional information as it becomes available.
Updated: Kelly's camp refuted the claims just after midnight on Tuesday. Trevian Kutti issued a statement, saying, "The allegations against Mr. Kelly are false, and are being made by individuals known to be dishonest. It is clear these continuing stories are the result of the effort of those with personal agendas who are working in concert to interfere with and damage his career. Mr. Kelly again denies any and all wrong doing and is taking appropriate legal action to protect himself from ongoing defamation."