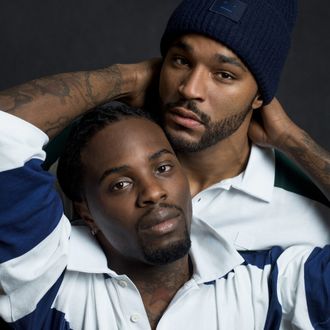 Kordale Lewis and Kaleb Anthony.
Photo: Inez & Vinoodh/Courtesy Acne Studios
Who better to cast for Acne Studios' fall 2017 "modern family" inspired collection than Kordale Lewis and Kaleb Anthony, a stunning same-sex couple from Atlanta taking social media by storm with their four kids.
Lewis and Anthony became household names back in 2014, when an Instagram photo of them brushing their daughters' hair went viral. "Being fathers is getting our daughters up at 5:30 am making breakfast getting them dressed for school and putting them on the bus by 6:30. This is a typical day in our household," read the caption. "It's not easy but we enjoy every moment and every minute of #fatherhood."
The Acne Studios campaign, which was photographed by Inez and Vinoodh, features Lewis and Anthony in another typical #fatherhood moment as they hang around a New York City hotel room while on a family vacation with their four children, Desmiray (10 years old), Maliyah (9), Kordale Jr (8) and Kaleb Jr (6 months). They all wearing matching striped polo shirts, like the A-team that they are.
"Since Acne Studios started as a collective, we would see each other as a family back in the days," wrote the brand's creative director, Jonny Johansson in a press release. "I therefore wanted to portray households of today, in all constellations."
Fashion loves daddies.