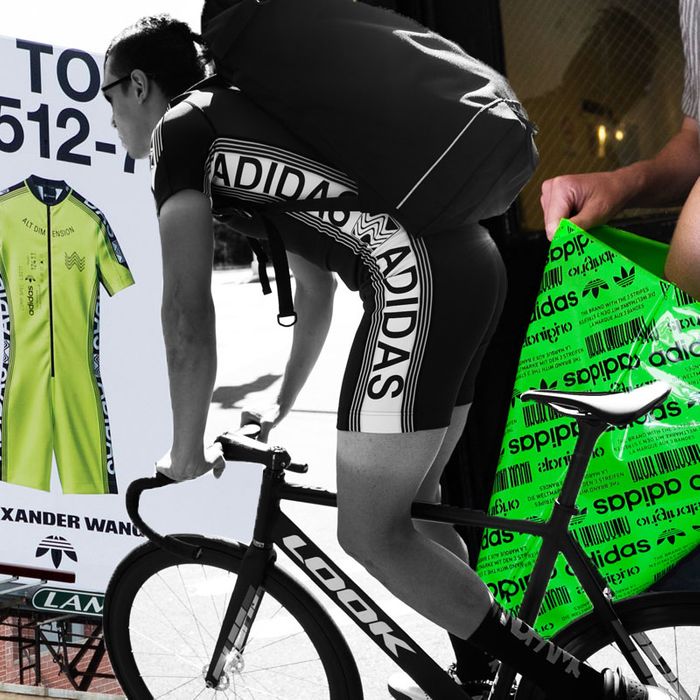 Photo: Nick DeLieto. Photo Editor: Biel Parklee.
Alexander Wang is the kingpin of athleisure, and New York City's network of bike messengers are his peddlers.
For his second collection with Adidas Originals, the New York–based designer allowed customers to order his much-coveted merchandise like they would marijuana on High Maintenance, the HBO show about a benevolent drug dealer on a bike. All you had to do was text a product code to a 917 number — both of which were revealed on posters around the city last week — and a messenger would deliver the goods to your door within 72 hours.
"Who gave u my line?" read the cryptic Alexander Wang x Adidas chatbot when prompted. "Only txt this one. What u need?"
The goal of the drop was to disrupt the traditional retail system by turning the streets into a store, giving preference to the brand's most eager, athleisure-addicted customers. Rather than making the collection drug-themed, though (like the Alexander Wang fall 2016 show was), the designer decided to pay homage to the city's booming bike-messenger culture with cycling shorts, face masks, and reflective sneakers — all of which the messengers later wear to an underground rave in the campaign video.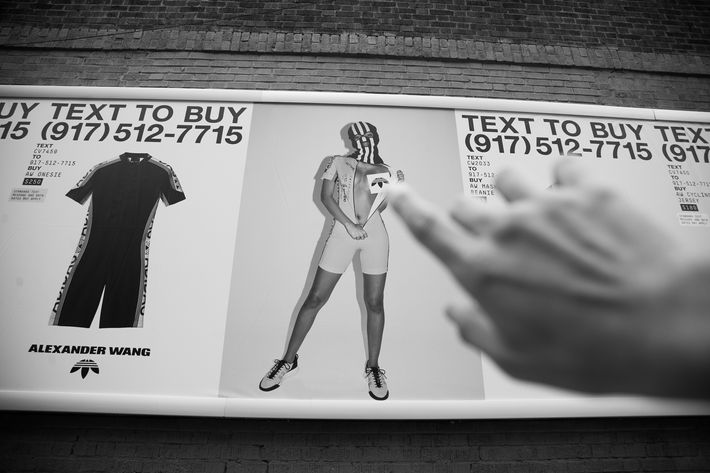 In New York City, there may not be secret bike-messenger raves, but it is proven that if you drop sneakers, the streets will come. And cometh they did on Saturday to the 20 different locations around Manhattan and Brooklyn where product codes were finally unveiled and activated at 12 p.m. on the dot.
"We've been here since 9 a.m.," said Renee Heimgartner, a marine biology student at Stony Brook University who showed up on Clarkson and Greenwich Streets with her two friends. She had a pair of last season's Adidas x Alexander Wang sneakers on her feet and a gigantic, dripping cup of Dunkin' Donuts iced coffee in her hands.
Also pacing in front of the Juergen Teller campaign photos in the West Village was Olaf Laszewicz, a 23-year-old visiting New York from Poland wearing an Anti Social Social Club hoodie. He wielded both an iPhone and a flip phone, which made him look fittingly suspicious. "You can't text from an international number," Laszewicz explained with a shrug. He'd woken up at 5 a.m. to catch a bus from Long Island, where he was visiting relatives, and bought a flip phone along the way specifically for this occasion. "I wanted to cop something from season one, but I didn't get a chance," he said, exasperated. "It's amazing that this drop is happening when I'm here. I'm really hyped. I hope my debit card will work."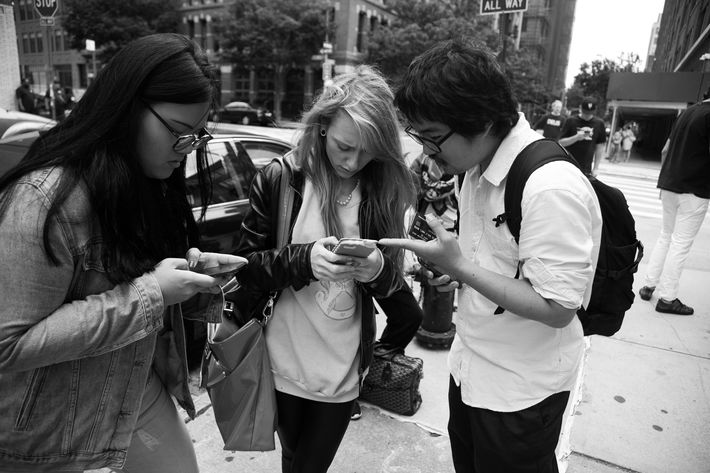 Along with three skateboarders and one Citi Biker in a Supreme shirt was a lone cyclist named Jay, who actually happened to be riding home when he saw the Adidas x Alexander Wang posters. "I like my cycling shorts better than my non-cycling shorts," he said, causing the ears of other buyers to perk up. "They're way more comfortable than any underwear."
When the time came to purchase though, the cycling jumpsuit and leggings surprisingly sold out before Jay could snag one. (According to Adidas, half the collection sold out within two hours.) This might have been for the best: "Everyone at the raves would have given me a hard time," Jay said with a sarcastic smirk before peddling away.
If Thrasher tees and models on skateboards were the look of 2016, it seems bikes are fashion's new favorite mode of transportation. (They're certainly Leonardo DiCaprio's.) At Balenciaga's spring 2018 menswear show in Paris, for example, a model wheeled a Collette x Balenciaga–branded bicycle out onto the runway. Just last week, Vogue also declared that "Bike Shorts Are the New Mom Jeans," whatever that means. And coincidentally, at the same time that 75 bike messengers were dispatched to deliver the Adidas x Alexander Wang collection on Monday, the New York Times ran an article titled, "More New Yorkers Opting for Life in the Bike Lane," in which they cite that more than 450,000 bike trips are made in the city on any given day.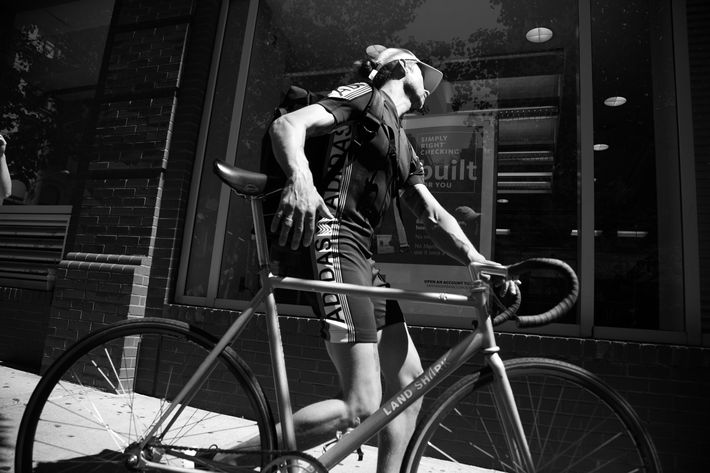 Alex Hogan, a professional bike messenger since 2012 who hand-delivered the Adidas x Wang collection to the New York offices, can attest to this. "I do feel that our style has been adopted by the mainstream with messenger bags and cycling caps," he said, also citing SoulCycle as a possible influence. "I don't know if it's a trend, but we just do it for the function. Function over form."
Hogan wore the full Adidas x Alexander Wang collection that day, and attested to its functionality, saying that it was "breathable" in the heat, as well as "mad aero," allowing him to do his 20 to 30 daily miles much faster.
But what about at the raves?
"Oh yeah, I go every weekend," Hogan said with a straight face. At first I thought he was joking, but then he continued: "We have these unsanctioned races every weekend called Alleycats, and then we go party at this place afterward called the Chicken Hut."
A quick Instagram geotag search revealed that indeed, an underground, Mad Max–esque bike world does exist in New York, complete with tattoos, messenger bags, and plenty of beanies. So, see you at the Chicken Hut this Fashion Week.