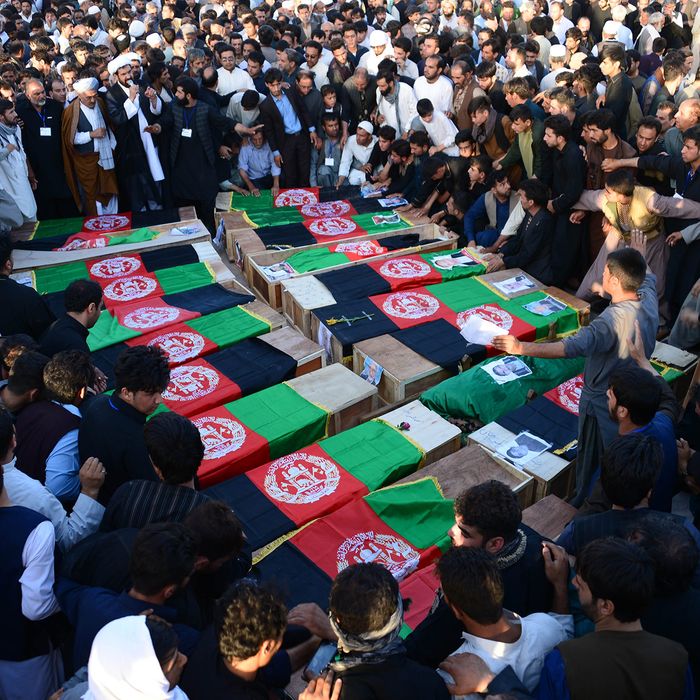 Afghans gather around coffins of victims as they shout against the Islamic State group following a mosque attack that killed 33 people in Herat on August 2, 2017.
Photo: HOSHANG HASHIMI/AFP/Getty Images
In July, six girls from an Afghanistan robotics team were twice denied visas to enter the U.S., where they'd applied to take part in an annual robotics competition. With only days to spare before the competition took place, President Donald Trump reportedly intervened to grant the women access on special parole status. At the competition, the team was awarded two silver medals.
The New York Times reports today that Mohammed Asef Qaderyan, the father of the team's 14-year-old captain, Fatemah Qaderyan, was killed in a suicide bombing in Herat, the team's hometown. The bombing killed 37 people and left 66 wounded; the Islamic state claimed responsibility.
When the girls returned home after the competition, they were given a "hero's welcome." Ashraf Ghani, the president of Afghanistan said, "Their success shows that Afghan girls, despite the challenges, can be good inspirations in the field of knowledge and technology." In an interview following the competition, Qaderyan pointed out why it was so important that the girls were able to compete in the U.S.: "Because I need this, our country needs this, to have women educated, to be new generation in the future. I want to show the world what Afghan girls, or young girls, can do. We can show them, when we have a creative idea, we can do it."