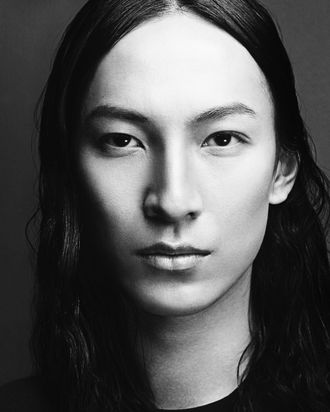 Trying to predict what Alexander Wang will do for New York Fashion Week has become a fashion-world parlor game — mostly because it's impossible. His flair for entertainment consistently makes his shows a highlight: Past venues have included an abandoned theater, a grand bank, and a Brooklyn greenhouse, and his after-parties are legendary. Last season, he managed to make not throwing a party into a fashion statement, presenting "No After Party" tights that became one of the week's big talking points. (What's happening this season? "Something new" is all he would say.)
Most of us know the Californian-bred designer's backstory. He moved to New York to attend Parsons, dropping out to launch his brand a mere two years later, and quickly became a downtown — then worldwide — sensation. His designs have an edgy, often streetwear- or punk-inspired sensibility (expect as much black as your heart desires). He designs for, he says, "the girl that every guy wants to sleep with and every girl wants to be best friends with."
Wang's certainly come a long way from his first fashion endeavor, a pair of brown plaid pants realized when he was in eighth grade. "They did not have an inseam," Wang recalls with a laugh. "I wore them to school and they ripped right as I sat down … From there, I learned that I needed to take pattern-making classes." By the time he decamped from Parsons, his skills were already impeccable. Seven years after launching Alexander Wang, he did time at the legendary house of Balenciaga (particularly known for its precise tailoring) before directing attention back to his namesake brand in 2015.
Today, Wang's found an unexpected new source of inspiration: riding his bike from his West Chelsea home to his office slash studio in Tribeca. "It's literally the most therapeutic part of my day and the one that I look forward to the most," Wang says. "I will find every excuse to ride my bike to work, even if it's raining … It's really been a game-changer."
The designer spoke with the Cut about his dream Vegas vacation, his secret skin-care obsession, and the trick to throwing those legendary parties.
How do you thank people for a gift?
It depends on how well I know them; it can be a text. But it's usually a note on my personal Cartier stationery.
Mood lighting or natural light?
Depends when, but usually I prefer the light at night — moonlight, I guess you could call it.
What's your favorite song on your playlist right now?
A$AP Ferg, "Plain Jane."
If you were a car, what kind of car would you be?
An all-terrain SUV. You can go wherever you want.
Dream vacation?
By the time I'm 40, I want to take all my closest friends on a private plane to Vegas. We'll party on the plane, then have a whole night of Vegas. Then we take the plane the next day to Amangiri, Utah, and have a retreat after a hard-core weekend.
What other decade would you like to live in and why?
I don't know if I'd like to live in another decade. I really love living in the present. I love being curious about what's to come, and if you go back to another decade, you know it already.
What's your secret for throwing a good party?
You've got to get good people and good music. An interesting new location always helps, because when you take people somewhere new, it drives curiosity. Not knowing what the outcome may be, in terms of a performance or an experience — that's what's most exciting for me.
What's one way your taste has changed since you were a teen and one way it's stayed the same?
I'm a lot less experimental with color. I wore a lot more color when I was little. But I still very much enjoy the high-low; I can kind of enjoy anything.
What's your guilty pleasure?
My overly high-maintenance skin-care routine. I've always been into skin care. I used to work at a spa back in my high-school days, as a receptionist — just to be clear, I was not an aesthetician. I'm obsessed with trying new products: peels, masks, exfoliators, you name it. My favorite is Biologique Recherche's Serum Placenta. I have two medicine cabinets full of things. That's my guilty pleasure, passion, hobby.
What's the last show you binge-watched?
Probably Big Little Lies and The Defiant Ones.
What are your favorite pair of jeans?
I'm going to be quite obvious, but a pair of black Wang jeans that I wore to the point where they're in more of a gray stage now, a dark-gray fade.
T-shirt?
I actually started redeveloping our T-shirts two seasons ago. It's this kind of heavier, high-twist Japanese cotton that I'm just completely obsessed with. Literally, my gray-fade jeans and my new high-twist mock-neck T-shirts are my uniform every day.
Flower?
White peonies — I love peonies — and, when in season, lily of the valley.
Candle?
I like Diptyque Baies.
Fragrance?
I don't really wear fragrance, but in terms of a scent, it's Oribe Après Beach spray. I'm obsessed with the scent and what it does for me texture-wise, so it's both utilitarian and cosmetic.
Photo: Mo Daoud/Mo Daoud Photography
If you buy something through our links, New York may earn an affiliate commission.