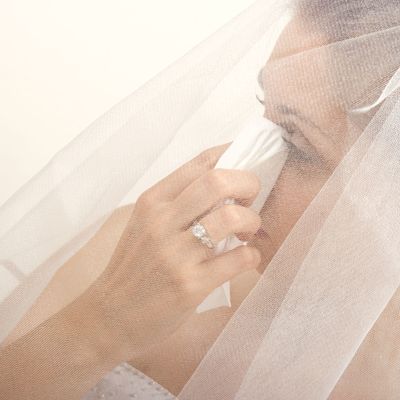 Bride claims American Airlines ruined her wedding dress.
Photo: Aleksandar Jaksic Foment/Getty Images/iStockphoto
A New Jersey woman claims an American Airlines flight attendant "egregiously" ruined her wedding dress with red wine while flying to her wedding in Jamaica. The bride is now suing the airline for $3.4 million, claiming the ordeal derailed her big day and "caused a lifetime of damage."
According to the Courier-Post, a Philadelphia International Airport ticket agent allegedly told Yewande Oteh that she could hang her wedding dress in a closet on the plane during her flight to Montego Bay in August 2015. But once Oteh boarded the plane and attempted to hang up her dress, American Airlines flight attendant Melanie Masters allegedly became "indignant and agitated." The flight attendant allegedly refused to allow Oteh to hang the garment bag containing her dress in the employee-only closet, and told her to put it in an overhead bin.
Oteh placed the garment bag in an empty storage bin in the first-class cabin, according to the lawsuit, at which point Masters told her to return to her seat in the economy cabin. But during the flight, Oteh and her now-husband Chidi allegedly saw Masters and another flight attendant enter the bin, while chatting with a third attendant.
"It was her belief that the flight attendants were placing something in the bin and making fun of (Oteh) and her wedding gown," the lawsuit claims. When the flight landed, Oteh discovered her dress was covered in what was later determined to be red wine — just one week before her wedding.
The Independent reports the lawsuit is seeking $3.4 million from American Airlines for the "sustained and continued emotional and physical distress" caused by the ruined dress. However, Masters has denied Oteh's account of what happened — "It really didn't go like that at all," she said — while American Airlines released a statement saying that they "are reviewing the lawsuit."