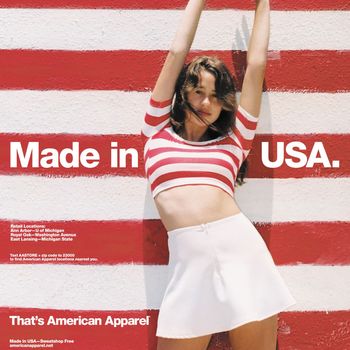 American Apparel.
Photo: American Apparel
Did you wake up yesterday feeling a little bit lighter? The lightness that comes with knowing that nonathletic tennis skirts and striped tube socks were suddenly widely available again? Maybe you didn't, but I definitely did.
American Apparel's website relaunched yesterday, bringing light and life to all. Gildan Activewear Inc. acquired American Apparel at a bankruptcy auction. It purchased American Apparel's name, but not its operations, which explains the biggest difference in American Apparel 2.0 — not everything is made in USA.
The new site's tagline reads, "Globally sourced, ethically made, sweatshop free. That's American Apparel." To appeal to its original market, it has a "Made in USA" capsule collection of eight styles that are domestically produced.
The Made in USA capsule is more expensive than the identical, foreign-made counterpart. For instance, an American hoodie costs $48, while its globally made twin costs $38.
For transparency's sake, there is also a section titled "Sweatshop Free Stories" to provide a look into their new foreign factories in Honduras where the rest of their clothes are produced.
The company explains the change at the top of the "Sweatshop Free Stories" section: "At American Apparel we've always believed in sweatshop free and ethical manufacturing. We've also always believed that border lines are pointless."