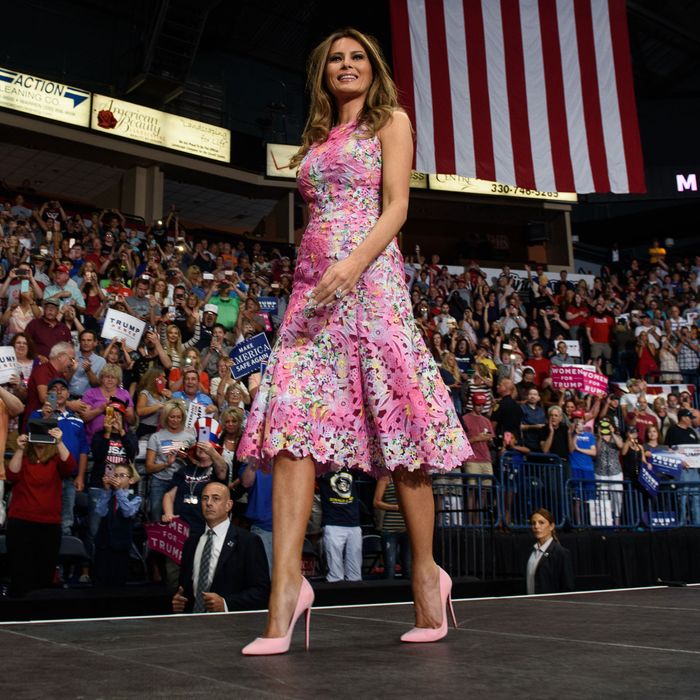 Melania Trump has almost never been seen in flats.
Photo: Justin Merriman/Getty Images
When Melania Trump stepped onto the White House lawn for the annual Easter Egg Roll, there was something unusual about her appearance: She was wearing flat shoes. Besides that instance, former Vogue editor André Leon Talley can't remember seeing the First Lady in flats at any point — and he's getting a little worried.
Talley told Newsweek that Trump is partial to two styles of heels: Manolo Blahniks, or the So Kate by Christian Louboutin. Heel height on the former in styles Melania tends to favor runs around four inches (Talley said she picked up 22 pairs of Manolos before leaving for D.C.). On the Louboutins, it's 4.5.
"As you get older in these shoes, your feet are going to have problems," Talley said. "I am not gonna say Melania is gonna have them soon, but sooner or later she is going have to come down off that high arch."
Talley added that the stiletto heel is "not a trending shoe," but he hypothesized that the women around President Trump tend to wear them because they've "mastered the art [of doing so] through rigorous discipline of daily exercise and weight loss." "It is a shoe that defies gravity," he added. "It is a risk-taking shoe. If you stumble, you will break your ankle."
So maybe Melania is just used to stilettos by now — or maybe her husband is. As Christian Louboutin famously told The New Yorker, "The core of my work is dedicated not to pleasing women but to pleasing men."