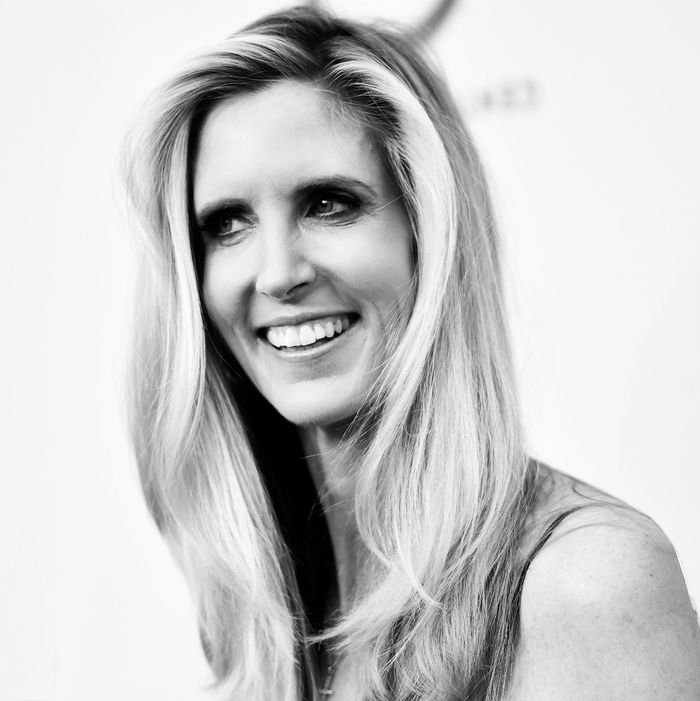 Ann Coulter.
Photo: Alberto E. Rodriguez/Getty Images
Over the weekend, Ann Coulter participated in the East Hampton Library's Author's Night fundraiser, during which she was supposed to sell some of her books with all proceeds going to the library. But the conservative pundit seemingly had a different idea at her booth — according to "Page Six," she also "made a handwritten sign and sold her DVD for cash."
A "source" told the gossip column that Coulter opted to sell her DVDs at the fundraiser for $25 cash at her booth, even though all of the benefit's books were paid for by attendees (which included Jessica Seinfeld and Alec Baldwin) at one register. "When an organizer approached and removed the sign, [Coulter] threw a fit and said, 'It doesn't matter anyway, I just sold out of all of them,'" the source told "Page Six."
The gossip column apparently reached out to Coulter for comment, and the right-winger initially said, "This is not true … You need better sources in the outpost of the resistance. Liberals are calling in nonsense." However, once "Page Six" informed her that they saw a picture of her with the handwritten "cash only" sign, she changed her story — and reverted to third person.
"The 80 books that were donated for the book fair were signed and sold, and all the proceeds donated … The idea that she pilfered from the poor liberal foundlings of East Hampton is absurd," Coulter told "Page Six." "Coulter's books sold out one hour into the two-hour event — long before any other author sold out. Instead of disappointing her fans who couldn't get into the sold-out dinner [afterward], she allowed fans to get signed DVDs at cost intended for the private dinner later." "Page Six" noted that while authors do give out items at the dinner, those proceeds also go to the library.
A representative for the library told "Page Six" they were unaware of Coulter's behavior, but when asked if the library received any proceeds from the sale of the DVDs, event co-chair Sheila Rogers replied, "No."