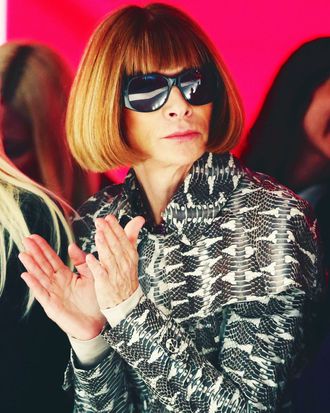 Anna Wintour.
Photo: Mike Marsland/WireImage
"You've been AWOK'ed."
Apparently, at Vogue, this phrase is the highest form of flattery, as it comes straight from the top: Anna Wintour's desk. According to a new article, the magazine's editor-in-chief has been known to leave notes bearing those four letters, which stand for "Anna Wintour OK," as a signal of approval on staffers' work.
"No writer/editor/stylist/art director ever forgets their first AWOK," writes Chioma Nnadi, Vogue.com's fashion news director.
To celebrate the magazine's 125th anniversary, illustrator Jean Jullien created a collection of Vogue-themed digital stickers, which include a smiling Post-it with "AWOK" written across it, hence the magazine's reveal of its master's secret code.
Nnadi goes on to say that other, less desirable, messages from Wintour include: "Keep trying," "No," or simply, "Boring."
God forbid you ever get a "See me."