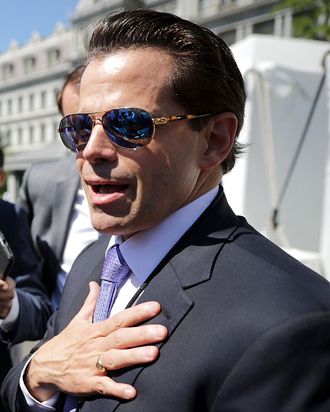 The Mooch.
Photo: Chip Somodevilla/Getty Images
Anthony "The Mooch" Scaramucci's 11-day tenure as the White House communications director may have been a disgrace — albeit an incredibly entertaining one — but it sounds like there's one place where he'll always get respect: an Italian restaurant in Long Island. (Which, yes, is a little too on the nose.)
According to Axios, diners at Dee Angelo's restaurant in Westhampton Beach, New York, took a brief break from their spaghetti vongole and veal parm to give him a hero's welcome. And the women, it seems, were especially interested:
The crowd of diners cheered Anthony Scaramucci's entrance, and women then flocked over and asked him for pictures with his now-famous aviator sunglasses on. It was 9 p.m.



Ey!