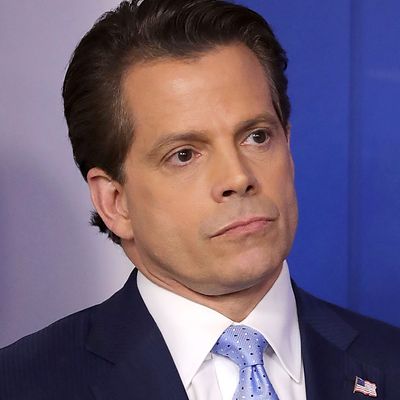 The Mooch.
Photo: Chip Somodevilla/Getty Images
On Monday, Anthony Scaramucci's whirlwind 11-day stint as the White House communications director came to an abrupt end. Along with losing his job, the New York financier's wife filed for divorce while she was nine months pregnant and he wasn't even present for the birth of his son. The Mooch luckily still has some other projects to fall back on as the rest of his life comes crashing down. For instance, an anti-bullying musical in which he invested anywhere between $250,001 and $500,000.
Vanity Fair spoke to the Crazy for Boys director Martin Guigui, who described the project as such:
It is about five girls who are kind of misfits. The girls are all very different and they form a band to stand up against bullying. It's a very heartwarming story — it's good old-fashioned family entertainment. The dancing, the singing … I shot it thinking of the old-school classic musicals like Bye Bye Birdie and Grease.
Guigui added that prior to the start of Scaramucci's brief tenure in the Trump administration, he visited the set and said, "You're doing a great job. Thank you."
Watch out, Hollywood!!!