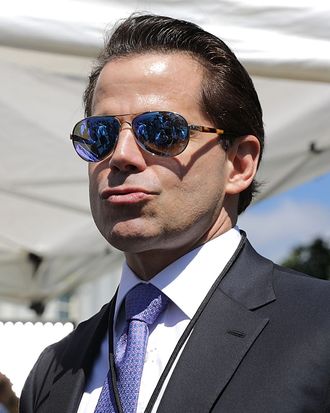 Anthony Scaramucci.
Photo: Chip Somodevilla/Getty Images
Great news for those of us who are already nostalgic for deranged ranter Anthony Scaramucci's short-lived tenure as White House director of communications: A "major Hollywood producer" is reportedly trying to turn the most dramatic 11 days in recent history into a TV show or movie.
TMZ reports that an unnamed high-profile producer has reached out to the new bachelor to produce either a sitcom series or a feature film about his time in the White House. According to TMZ, there are currently two working titles for the project — either 10 Days in July or Attack of the Swamp Monsters.
The project would center on "an outsider assuming power in D.C. to the great dismay of longtime political hacks who go straight for the jugular," TMZ notes. But we can only assume it'll just end up being a sequel to the Entourage movie.