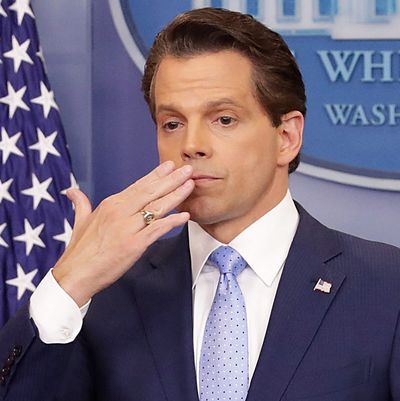 The Mooch not ready to chat.
Photo: Chip Somodevilla/Getty Images
Short-lived former White House director of communications Anthony Scaramucci apparently discovered that the internet is more than just a place to tweet enthusiastically positive reviews of the Entourage movie. On Thursday morning, CNN reported that the Mooch was set to host an online event on Friday to tell his version of the events (cough, deranged New Yorker rant, cough) that led to his sudden downfall in D.C., but Scaramucci has since posted a tweet saying there won't be an online event after all.
In a move that sounded a lot like an elaborate Skype session, Scaramucci's livestream event was said to be broadcast on a number of platforms, with help from Fox News co-president Bill Shine. Scaramucci reportedly believes his story has been misconstrued, even though the now-infamous New Yorker interview cites on-the-record statements he made during a conversation with a reporter. The recently single man thinks he's unfairly being portrayed as a "loose cannon" by the media, and CNN said he would be using the online event to tell his side of the story.
But later on Thursday, Scaramucci posted an oddly capitalized tweet, stating, "No Press Event Tomorrow: Focusing on Family, My Work in The Private Sector. #MovingForward Stay Tuned!"
At least we know the "private sector" probably doesn't involve a Dancing With the Stars appearance.
This post has been updated throughout.