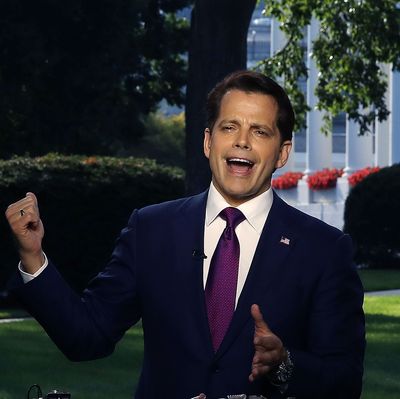 Former White House Communications Director Anthony Scaramucci.
Photo: Mark Wilson/Getty Images
Former White House Communications Director Anthony Scaramucci gave his first interview to ABC News's This Week on Sunday, and the fired aide was not afraid to criticize President Trump.
Speaking with host George Stephanopoulos, Scaramucci said he thinks Trump should have called out the white nationalists who organized the deadly "Unite the Right," rally in Charlottesville, Virginia.
"I wouldn't have recommended that statement," Scaramucci said referencing Trump's widely criticized speech on Saturday in blaming the violence at the Charlottesville rally "on many sides."
"I think he would have needed to have been much harsher …With the moral authority of the presidency, you have to call that stuff out."
Scaramucci's interview seems to kick off something of a media blitz — which has the slight air of a kid jumping on a trampoline just out of one's frame of vision.
After his long appearance on This Week, Scaramucci did another extended livestream interview, and tomorrow night, he will appear on Late Night With Stephen Colbert.
But Scaramucci seems to have come to terms with his firing, and he is already translating his employment history into terms Hollywood can understand — perhaps in preparation for the rumoured Mooch movie.
Speaking with Stephanopoulos, Scaramucci compared his White House role to Harvey Keitel's character Mr. Wolf in Pulp Fiction, who tells the murderous lead characters how to cover their tracks, clean their car, and dump the body.
"Listen, I saw it more as like Mr. Wolf from Pulp Fiction," Scaramucci said. "You know, I really did get a directive from the president. I had a mutual understanding with him. And I was probably running too hard and acting more like a corporate CEO than I was, say, a political operative," he said. "And that is my mistake."