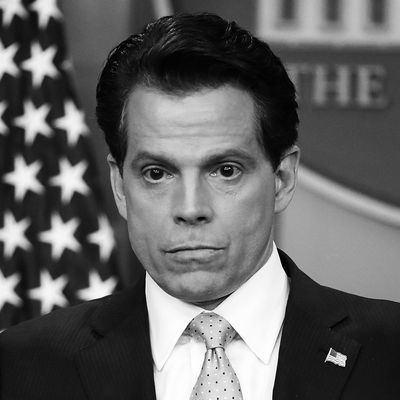 Anthony Scaramucci.
Photo: Chip Somodevilla/Getty Images
If you weren't salvaging your reputation this August, then what were you doing?
As these salacious, hot-garbage days of summer come to an end, everyone from Daenerys Targaryen to Taylor Swift is rising from the ashes of their scorched public personas in an attempt to reclaim their thrones. Like high-school freshmen returning from summer break with a new haircut, they're wiping the slate clean and starting over, hoping desperately that the public's memory is short.
Perhaps no one is trying harder than Anthony Scaramucci, the former White House communications director who was canned ten days into his tenure after The New Yorker published some truly bonkers quotes of his. On the one-month anniversary of his firing, let's take a look back at the Mooch's very public attempts to salvage his personal brand.
Day 1: Spend time with your family, finally.
Day 2: Couch this whole thing as a bad joke.
Day 3: Start a hashtag: #MovingForward.
Day 4: Tweet a self-deprecating cartoon.
Day 7: Remind everyone that a subject you take "very seriously" is cocaine. Upload your old podcasts and Medium posts on the subject.
Day 8: Visit your Safe Place, also known as Dee Angelo's Italian restaurant.
Day 9: All right, time to go after the guy who got you fired.
Day 13: Do television spots, plus live social-media Q&A sessions for the kids. Join Instagram.
Day 14: Go on Late Night. Say Nazis are bad, but still make excuses for the president. Get made fun of to your face. Take it.
Day 15: Start your own viral challenge: #TheMoochChallenge.
Day 16: Congratulate your replacement.
Day 18: Retweet the guy who got you fired, a social-media olive branch.
Day 20: Follow everyone and their mother on Twitter. (186,000 people and counting.)

Day 21: Take a break. Go to Potter World?
Day 22: Randomly remind everyone that you like gay people.
Days 23 through 25: Make your own merch.
Day 28: Subtweet the President with a Jon Snow quote.
Day 30: Pivot to video.