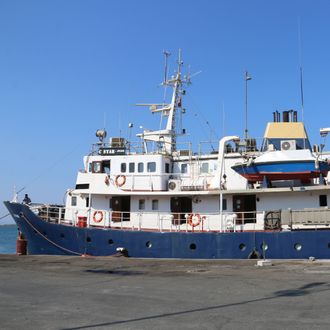 Floating out in the Mediterranean Sea is a ship called the C-Star that's filled with far-right YouTubers like Lauren Southern and other members of the group Generation Identity, who all oppose immigration into Europe. As BuzzFeed explained, the team has used several vessels over the course of their messy "Defend Europe" campaign. At some points, their efforts were more overtly aggressive, like shooting flares at a ship that housed NGOs that aid refugees, including SOS Méditerranée and Médecins Sans Frontières. Now, they're just promoting a conspiracy theory that refugee-aid NGOs are participating in human trafficking; they also plan to use the C-Star to find stranded refugees and bring them to "safety" in Tunisia. Overall, the goal is to prevent refugees from entering Europe.
But the C-Star reportedly ran into some trouble itself this week and had to be aided by none other than … a refugee-rescue group. Per BuzzFeed, Sea-Eye received notice that the C-Star was "in distress at sea" and could not move while off the Libyan coast. Since they were the closest boat, they were dispatched to help the far-right group.
Defend Europe took to Twitter to insist that they were not owned.
Michael Buschheuer, Sea-Eye chairman, explained why he helped, saying, "To help those who are in distress is the duty of everyone who is at sea — no matter their origins, skin color, religion or views."