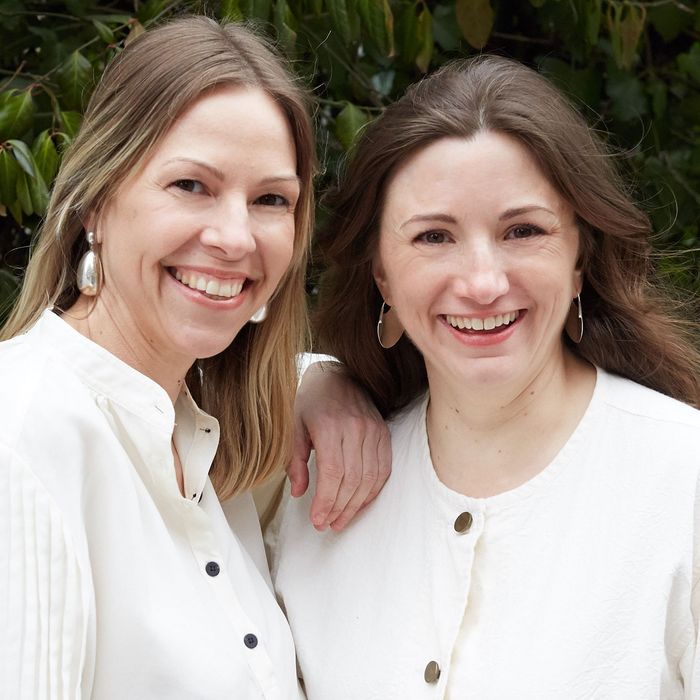 Apiece Apart designers Starr Hout and Laura Cramer were born one day apart and are so close that they almost seem to share a brain. The two met during their senior year at NYU as the only two undergrads in a master's level computer-programming class. After college, they began taking annual birthday trips together, and it was on one of these trips — to Marfa, Texas — that the idea for their now-cult-followed clothing brand took shape. Says Cramer, "We were inspired by the landscape, and of course by the artwork of Donald Judd" — both of which would later influence the aesthetic of the line.
Immediately after the trip, the two started conspiring to launch a simple, streamlined collection of comfortable clothes designed for travel and "cultivated ease," faxing drawings back and forth from their day jobs. Cramer soon moved back to New York to work with her friend full-time, and the brand launched in earnest in 2008. Today, the line is stocked at places like Net-a-Porter, Matches, and Liberty London, and the designers have expanded from monochromatic basics into new territory.
"It's changed a lot over time," Cramer says. "Early on we would have used words like simplicity, and that as a concept is still there. But these days there's a lot more femininity. We've added some details to [the] collection, which in the very beginning we may have taken away." (Read: Prints and ruffles, both of which were originally taboo, but which have been a huge commercial success.) "We found ourselves in a place where we're saying yes more often," she continues. "It's very freeing."
The Cut talked to the designers about Instagram stalking, guilty pleasures, and why neither of them would want to live in a different decade. Read on for the full Q&A, below.
Mood lighting or natural light?
Starr: I think that depends on night or day but I'd go natural light. Of course if it's dark, you want a candle or a little soft lighting. Or a little Noguchi lamp on a side table for a nice little glow
Laura: We love Noguchi.
What coffee-table books would you be proud to display?
Laura: I have two small children, so all of my coffee table books are put away so they are not completely destroyed — as is my coffee table. My favorite of all time is this book of Paul Klee drawings that I found in an old thrift store. It was from the '50s and it was really beautiful. That's my favorite treasure. Starr, you gave me an Albers book right about the time we started the business. And there's another one which is just the landscape designer of the High Line.
Starr: I'm really excited for Leslie Williamson's new book coming out in February; I love anything she does. Then there's one that Laura gave me called Finnish Summer Houses. There's such simple utility to how they live, but it's always so beautiful and effortless and happy. There's also a fun one called Wabi-Sabi Welcome that just came out by this woman named Julie Pointer Adams and she sent this book to us. And anything Alice Waters.
What would you never wear?
Laura: Stilettos.
Starr: I'm not a big sexy, tight dress wearer. You would never see me in a bandage dress. Or stilettos.
What's a trend that you like right now?
Laura: Black socks on men. I think it's cool. And gorpcore, the term for new kind of outdoor-camping style.
Starr: I am really into the trend of wellness and sustainability. It's awesome.
What's your favorite song on your playlist right now?
Laura: "Bodak Yellow" by Cardi B.
Starr: I don't really listen to music very much. I like just turning the radio on the classical-music station.
If you were a car, what kind of car would you be?
Laura: I think I have to go with my favorite car of all time, the one that I begged for when I was a teenager, which is a Karmann Ghia.
Starr: My Westfalia Vanagon. It's all about having fun where you are. Nothing too ostentatious. It's very fun and practical, good-time oriented. The truth is both Laura and I have to go a lot faster than a Westfalia on a day-to-day basis. I would have to have it souped up with a really speedy engine and big tread on the tires.
What's another decade you'd like to live in and why?
Laura: I am just not that retro. I probably would have said the '70s, because of the music and the fashion, but actually I think it was kind of a depressing time. I'm pretty happy to be in the here and now. I was meant for this.
Starr: I would say that too. I think that none of us want to go back. What's happening now is so so important and I'm just so grateful to be here and help advance to the next stage.
Guilty pleasure?
Laura: I'm really boring but iced coffee after 4:30 in the afternoon. It feels like pushing it. It's like I'm living on the edge and there might be consequences but I've got one life to live.
Starr: Feeding pain au chocolat to my son.
What's your go-to salon?
Laura: I don't think I've had a haircut in a couple years, but we do have a good friend, Ellen Johnson, that will come to us in a pinch.
Starr: She did all of the hair and makeup for all of our shoots and she's just really intuitive. She thinks it through with you and creates a larger hair program. So you can live with it without having to go to the hair salon all the time.
What are your favorite accounts to follow on Instagram?
Laura: There is a designer in L.A. named @beatricevalenzuela. She does shoes and I think she has a clothing line, but she in the past few months has gone to Cuba and Italy with her family and she has an adorable family. I have lived summer through her Instagram feed.
Starr: There's also this woman named @jeanasohn who's got an incredible feed. I love everything that she does. I've been really inspired by this health-and-wellness couple @richroll and his wife @srimati. They're just a really neat 50-year-old couple and they completely revamped their life from 40 on, living in yurts in Hawaii. I love the idea that they just keep getting better as they get older. Also @sannehop, @saarmanche, @clairelindsay, @andreagentl, @louisa_thomsen_brits, and @studioshamshiri.
What's the last show you've binge-watched?
Laura: Big Little Lies. Give me a beach town, a sexy story of intrigue, and I'm completely sold.
Starr: Well, I don't even own or watch TV or any of that, but I love Chef's Table. I would binge-watch it if I could but I just keep falling asleep.
What's your favorite pair of jeans?
Laura: Apiece Apart Merida jeans.
Starr: I would say the same.
T-shirt?
Laura: This is gonna be kind of boring but we have a new T-shirt that we brought out that's a simple cream linen.
Pajamas?
Laura: I like things that are cozy, and my mother gave me a pair of pajamas that she thought had kind of an ikat print on them. I put them on and I realized that it's actually a cat print, and I am not a huge cat fan — in fact I am probably the opposite. My mom and I laughed and laughed about it, she's an artist and she didn't see it in there. The funnier thing is they are very cozy so I ended up wearing them a lot.
Starr: I wear one of our simple black slip dresses; I end up repurposing our pieces for bedtime.
Flower?
Laura: Cosmos.
Starr: I really love sweet peas. The flowers make me so happy. They're so simple, nothing grandiose, just lovely and little, and the cosmos are the same way; they've got the same effortlessness.
Chocolate?
Laura: I'm going to go off topic a bit. I do have a sweet tooth and it takes many forms. Recently I have been incredibly obsessed with an Ample Hills ice cream called peppermint patty. It has chocolate in it …
Starr: Hu chocolate. It's from a gluten-free eatery. I feed it to my son; it just really feels like medicine.
Fragrance?
Laura: I love fragrance but I don't wear it. Starr and I are actually on the verge of discussing doing a fragrance. Honestly, I love a health-food-store version of patchouli — I might be alone in that.
Starr: I like the same. I really do. I've been recently wearing the health-food-store amber, which is so earthy and simple. They're spiritual scents.
Linens?
Starr: I recently become devotee of By Mölle; I'm really excited about what they're doing.
Laura: We're all-white-bed people. I mean, I have a hankering for some like soft-pink sheets right now, but whether I will give in to that desire, it depends. We work with color, so it's really nice to have tabula rasa.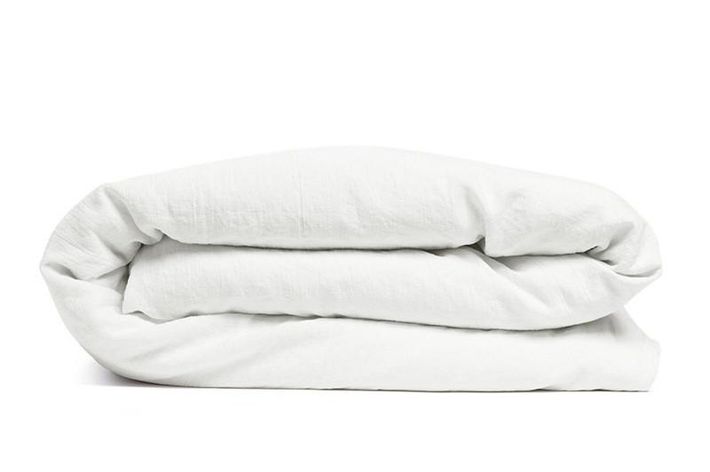 If you buy something through our links, New York may earn an affiliate commission.