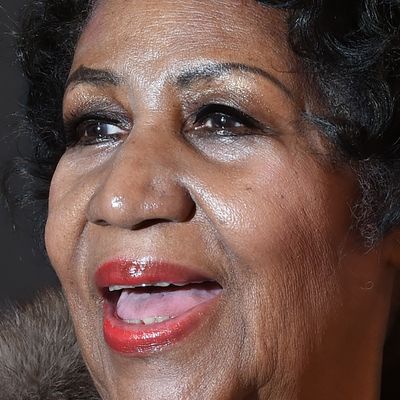 Aretha Franklin.
Photo: MOLLY RILEY/AFP/Getty Images
Nightclubs are, for the most part, sweat dungeons full of EDM, non-breathable fabrics, and occasionally Aaron Sorkin that fall somewhere below "a thorough flossing" and just above "a breakup" in terms of fun Saturday-night activities. Unless, that is, they are owned by Queen of Soul Aretha Franklin.
Although the soul singer announced her touring retirement earlier this year, she told the Detroit Free Press this week that she plans to move from her current home in the suburb of Bloomfield Hills, Michigan, back to Detroit, where she will open a nightclub called Aretha's.
"I'm interested in doing a small nightclub downtown, and he (Bruce Schwartz, Detroit relocation ambassador for Bedrock Real Estate Services) and I have been talking about this for a couple of years now …" she told the paper. "In my retirement plan, I'd like to have a small club here in Detroit."
The Queen said she would use her club as a stage for local artists and Detroit favorites. Favorites like, for example, Aretha Franklin.
"From time to time I would sing, and of course, I would have special artists come in to perform for the city that people in Detroit like —  Detroit favorites."
Even the most tedious club staples — long lines, poor air circulation, and overpriced, watered-down drinks — would be worth it for a potential Aretha sighting.
Franklin is also finishing up a new CD, and spending time with family. Hopefully between her business and family engagements, she still has time to shade her nemeses over fax.