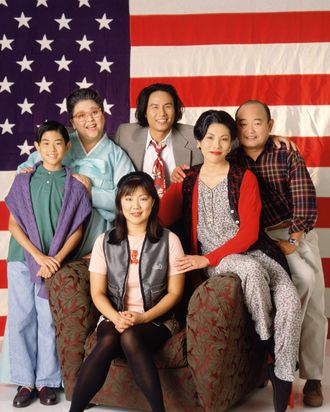 The
All-American Girl
cast.
Photo: Touchstone Television/Everett Collection
Keeping up with the tradition of the Republican Party devolving further and further into a parody of itself, the Arizona GOP used a photo from Margaret Cho's 1994 sitcom All-American Girl to illustrate "Asian Americans" on their site.
Vice News reports that the above shot was on the page http://az.gop/people/ and captioned "Asian Americans." (There were also stock photos for African-Americans, Hispanic Americans, Rural Arizona, Seniors, and Union Members.) The entire "People" subsection has since been pulled down, with a spokeswoman telling Vice, "this was obviously a mistake, and we apologize."
B.D. Wong, who was also on the show, tweeted out the story, writing "omg and they had no idea that at least two people in that photo were depraved sexual deviants."
All-around great week for Arizona Republicans.