The first thing Aubrey Plaza says when she pulls up in the parking lot of the Vermont Canyon tennis courts is "I don't really know how to play tennis. Do you?" The first thing I do in response is to laugh in her face, because this must be a joke. It's a hot, nosebleed-dry Los Angeles day; there's no cloud cover or trees to protect us from the sun, and the asphalt courts are heating up like a kiln. The only acceptable place for a human is somewhere air-conditioned, but one of us had proposed a rousing game of tennis and — hint, hint — it wasn't me. When Plaza — queen of the deadpan delivery, patron saint of the sharp-tongued — claims she doesn't know how to play tennis after suggesting we play tennis, my instant and totally unfair response is to assume she's setting me up and will soon be mocking me for sweating profusely, like she's a real-life April Ludgate. (April, for those who didn't watch Parks and Recreation, was the Parks Department's apathetic, rude, antagonistic intern-assistant — an indelibly perfect spoof of adolescent hostility.) I laugh until I notice the way she's asking: There's no eyebrow arch, no trace of that famous sarcasm in her voice, only a nervous shrug, because she really doesn't know how to play tennis. Well, she sort of knows; she used to get lessons from the guy who played Sewage Joe on Parks and Rec, who's really good and regularly coaches Dr. Phil on his clay courts, but she hasn't played in a while. When her publicist told her she had to choose an activity, she panicked. Everyone goes hiking, so she couldn't suggest hiking. Instead, she suggested tennis and here we are. She brought racquets — one for me, too. And she stopped by Rite Aid on her way here to make sure we had balls. So we're doing this, we guess, because neither of us can really think of a way out of it. In the middle of explaining all this, she sees a squirrel and says "Squirrel!" and runs after it. Then we get the racquets out of the trunk of her Lexus hatchback and walk up to the courts.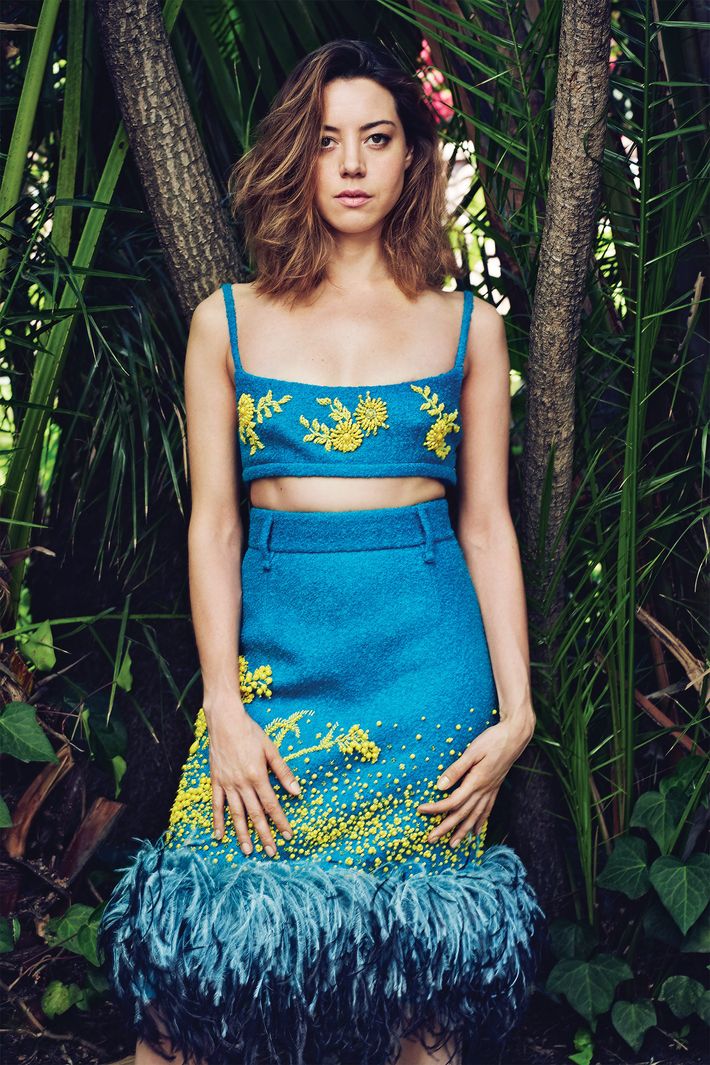 Plaza arrives dressed in Silver Lake slouch (a white T-shirt designed to look moth-eaten, slim-fitting camo sweatpants), and her usually inky-dark hair is a few shades lighter, calling to mind her character in next month's Ingrid Goes West, a dark comedy of social-media misbehavior. We take to the courts with game enthusiasm and minimal skill. Our rallies tend to last about seven seconds.
"Unnghh. I like the sound tennis players make!" Plaza yells.
"Oh, good serve!" I yell back.
"I feel like we need to get good at this." (That's Plaza hitting a ball right into the net.)
"Fuuuuck!" (That's Plaza again, as a ball just grazes the frame of her racquet.)
"Do you like having balls in your pocket?" (Plaza.)
"High five!" (We've successfully hit the ball back and forth five times.)
"We really don't have to do this," Plaza says apologetically after maybe 20 minutes of surprisingly earnest, committed athletic effort. "We can do something else." She suggests lunch at her favorite Los Feliz spot, Go Get Em Tiger, so we head back to the parking lot. "Don't look at my car! It's fucked up in here!" she says as she throws her body in front of my sight line and starts clearing space on the passenger side. As I settle into the front seat, Plaza says a fond hello to the spider that lives in the driver-side mirror of her car. It moved in a few months ago and survived a car wash, so she's going to let it stay.
In person, Plaza is less deadpan, less caustic, less sarcastic, maybe even goofier, than the onscreen persona that made her famous. Still, she tells me, she's well aware that I expected her to be a total jerk during tennis. It happens to her all the time, even now, at 33, almost a decade after she first played April.
"When I meet people for the first time, they can't believe I'm not going to be mean," she says. "They'll do a thing where they'll be kind of mean to me, and I can tell they think that that's what I'm like." Such are the hazards of finding fame as a misanthropic adolescent. "It's like I'm too much of a people pleaser to not do it," she says. "Sometimes it's fun for me, because if I say something sarcastic or whatever, they'll eat it up; they aren't offended. I'm like, I know what you want. You want me to fucking say something weird to you. Fine."
But she would like people to stop assuming she's going to do that "Aubrey Plaza thing" (as she puts it) in life and especially onscreen. Because if you've been paying attention, you know she hasn't been doing it for some time. And if you haven't, then maybe her newest slate of roles — which range from off-the-wall to unhinged to totally crazy — will blow up the notion once and for all.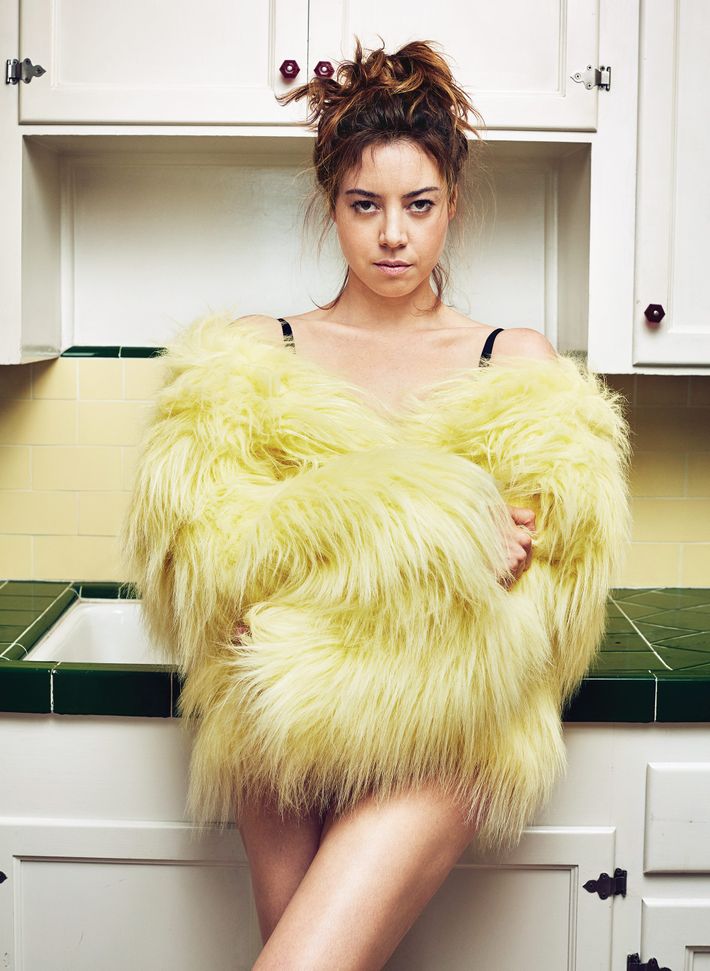 Plaza's theory is that the fixed, unshakable concept of Aubrey Plaza emerged when she was an undergrad at NYU, she explains as we wait for our adobo grain bowls on the sunny patio of Go Get Em Tiger.
As a teen in Wilmington, Delaware, she attended an all-girls Catholic school and took outside acting classes; she was actually really outgoing. "Honestly, the deadpan thing wasn't ever my thing," she says. In college, Plaza studied writing and directing, and in her spare time, she took improv classes at Upright Citizens Brigade. Then a UCB classmate, the writer Maggie Carey, cast her as an apathetic teenager in her web series The Jeannie Tate Show, about a soccer mom hosting a talk show from her minivan. Plaza played a jerky, pissed-off teen who would sit in the back of the van yelling "Fuck you" and other insults at celebrities like Rashida Jones and Bill Hader.
That got Plaza an agent, who helped her land three major roles around the same time: the disaffected, apathetic intern on Parks and Recreation; the disaffected, bitchy love interest in Scott Pilgrim vs. the World; and the disaffected stand-up-comedian love interest in Funny People. And that was it. She was forever known as the anti–manic pixie dream girl, a biting, punching, sarcastic alternative for when the Zooey Deschanel types proved too cloying or boring, the wet dream of the misunderstood man with a masochistic streak. In fact, she was so known for being deadpan that in 2014's Life After Beth, she actually just played dead, as a zombie. She found herself playing to type offscreen too. The impulse could be self-protective: "Sometimes when I'm in an uncomfortable situation, when I'm on talk shows or stuff like that, it's just an easy defense mechanism for me to kind of slip into that persona."
She interrupts herself to stop a waitress and ask for hot sauce. The waitress brings us one serving — "Oh, no, we need two," Plaza says, and the waitress sets off again. "She hates me now," Plaza tells me under her breath, then encourages me to dump the entire little ramekin on my bowl.
Plaza played April for seven years. It's nothing new for TV actors to have trouble escaping the characters they've lived in, and the problem might be even worse for B-characters or breakout ensemble ­weirdos­ than it is for the stars — they're the ones distilled to broad strokes, catchphrases, or trademark eyebrow arches that audiences glom onto eternally. Steve Urkel will always want some cheese; Kimmy Gibbler will always charge through the Tanners' door uninvited.
In the past, Plaza has made some head-on efforts to shake the "Aubrey Plaza thing." She played a big-boobed sorority girl in Dirty Grandpa (a role she had to beg for, she says, because nobody quite believed she could play a big-boobed sorority girl), an earnest sex-positive virgin on a mission in The To Do List, a neurotic ingénue in About Alex, and a mildly sociopathic party girl in Mike and Dave Need Wedding Dates. But they've all felt like they were just a single degree of separation from each other. Lately, she's been drawn to roles that embrace darkness in a way that goes far beyond sullen April Ludgate.
It started with Lenny Busker, the character Plaza plays on FX's Legion. Legion is a sort of impossible-to-explain comic-book show, and Lenny is a virtually impossible-to-explain character — but all you need to know is that it allowed Plaza to bust through any expectations of what she should do as an actress based on what she has done. Originally, the character was written as a middle-aged man, but Plaza got the part. And in portraying an evil parasite who's pretending to be a woman who's pretending to be a God-knows-what — again, impossible to explain — Plaza was allowed to fully descend into seduction, mania, and sinister destructiveness. At one point, she vigorously humps a pillow before tearing it to shreds with her bare hands. She goes full id.
"I was looking for someone who could be fun and energetic and also untrustworthy," says Legion creator Noah Hawley. "I needed an actor who could morph into something a little less human, in a way, and I couldn't think of an actor who was as unpredictable and hard to read as Aubrey."
Hawley and Plaza created Lenny together, and he found she needed little instruction on how to craft the character; she was a virtuoso lunatic. He remembers watching the dailies during taping in Vancouver one day and realizing that Plaza had, unbidden, grown thick patches of black armpit hair to signal her character's undoing. "It was the best moment for me. I was like, You get it, you understand what I'm asking for and what this character is doing."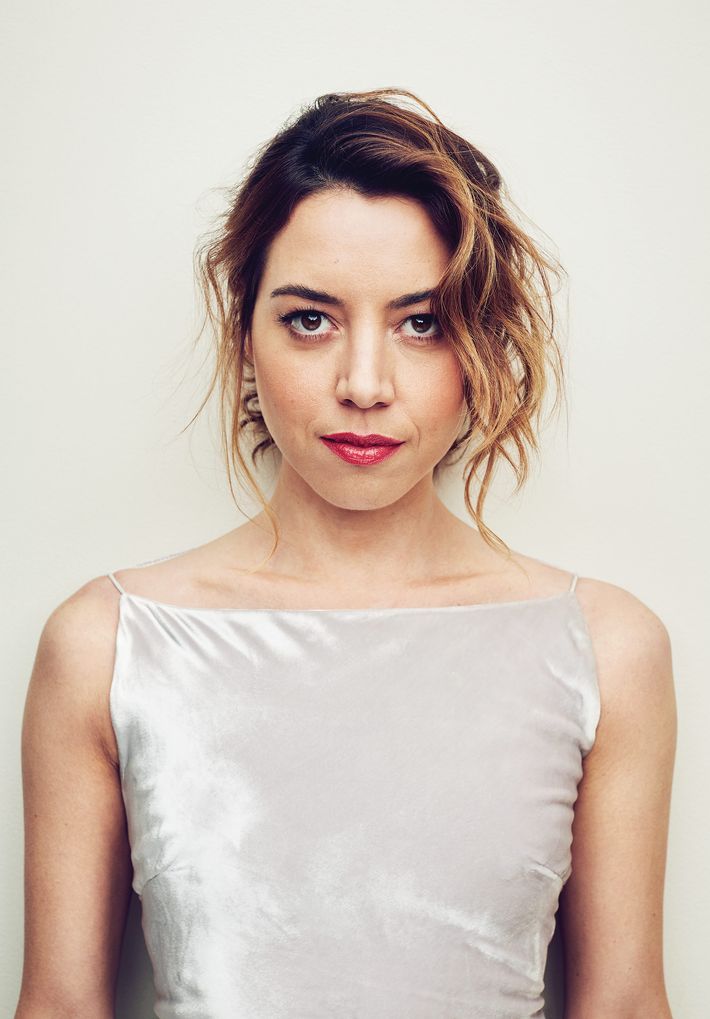 A story Plaza told me earlier in the day suddenly makes sense. When she was in college, she started taking private acting classes with Tish Till, whose approach was unconventional.
"I remember one time we went to Times Square and went up in some hallway above an Applebee's that was abandoned or being renovated or something — literally, we went through the door that said, 'Do not enter,'" Plaza remembers. "I opened it and we sat in these weird booths in an Applebee's, and there was construction everywhere, and she was teaching us scene work. She would have us do insane things, like go outside and talk to police officers in character. She would leave me voicemails at 3 a.m. At all all times I was like, I should not be here. She was just a really crazy lady but I loved her. She helped me realize that I was willing to dive off the deep end for any role that I would take on."
There's always been something a little bit unstable pulsing under Plaza's performances, no matter the role. This summer, she plays the nun Fernanda in The Little Hours, a raunchy, improvisational retelling of the first story of the third day of The Decameron. Her longtime boyfriend, Jeff Baena, wrote and directed; they filmed in Tuscany with all her comedy friends (Dave Franco, Alison Brie, John C. Reilly), and Plaza basically got to lose her mind onscreen for a few weeks.
But the real role — the big role — she's got coming up is Ingrid Thorburn in Ingrid Goes West. Ingrid is an unstable, lonely woman who forms unhealthy attachments, and the current object of her affection is Taylor Sloane (Elizabeth Olsen), a lifestyle Instagrammer with a picture-perfect life, house, second house, husband, dog, and highlights. Naturally, Ingrid gets obsessed and starts to stalk. Plaza plays Ingrid as a female, millennial Rupert Pupkin from The King of Comedy, a Single White Female with an iPhone and a love of succulents in white ceramic pots, a Talented Mr. Ripley for the social-media age.
"I really relate to the idea of feeling misunderstood and lonely and wanting someone to connect with and wanting someone to really like me," Plaza says of playing Ingrid. "Also, having social media as this device that kind of lets you act out your worst kind of toxic behavior."
It's a demented, funny, pointedly satirical film skewering #dat Avocado Toast, Joshua Tree, Jungalow, Palo Santo Instagram #ambassador #lyfe. Plaza, too, is demented and funny and satirical and teeming with almost too much pathos to watch. It's the perfect role for her. She's able to find the humor in it, but there's still that darkness below the surface, as Ingrid Goes West director Matt Spicer recognized when he cast her.
"Aubrey has these eyes, these piercing kind of eyes," he tells me later. "You're just instantly drawn to them. There's a moment where she looks at Taylor in the film and the audience laughs uncomfortably because there is such an intensity to this look. You get chills."
I know what he's talking about. Plaza's dark-amber eyes do a lot. She can talk to you in a totally flat voice, but her eyes — which are so big and bright they almost pop out of her head — give it all away. You can see it in film, too: In Ingrid, her eyes seem to zoom in like whirring telephoto lenses when she's obsessing over something or someone; it's one of the things that make her so captivating to watch. If I wanted to know if Plaza was being straight with me or joking, I figured before we met, I'd just need to look in her eyes.
Of course, Plaza has kept her sunglasses on all day.
As I peer through the lenses of her white sunglasses, Plaza explains that she doesn't want people to think Ingrid Goes West is a condemnation of social media. She reassures me it's okay to love the cheesy Instagram stuff that the movie makes fun of: brunch, selfies, inspirational quotes over desert landscapes, and $100 cacti.
"I'm really embarrassed at how much I actually like avocado toast," I admit.
"But avocado toast is the best," she says. "You shouldn't be ashamed of that. Everything is the best. That's the thing. You can't knock it. It's good. It's the best." And I want to believe her, but her sunglasses are still on.
Styling by Rebecca Ramsey. Hair by Rod Ortega for SoloArtists/René Furterer; makeup by Mai Quynh using Stilla at Starworks Artists. Photographed at the Chateau Marmont. Styling assistance from Christonya Kinsey.
*A version of this article appears in the July 24, 2017, issue of New York Magazine.