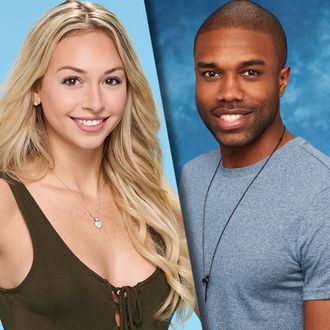 Corinne Olympios and DeMario Jackson.
Photo: ABC
Corinne Olympios and DeMario Jackson will comment on the controversy surrounding this season of Bachelor in Paradise in interviews that will air during two episodes of the show, according to a report from EW. Last week, host Chris Harrison said that this season of Bachelor in Paradise will include footage of Jackson and Olympios, two contestants who left the show after an investigation into sexual misconduct temporarily halted production (the investigation concluded after no evidence of misconduct was found). This Saturday, the two contestants also sat down for on-camera interviews with Harrison, which will be incorporated into the second and third weeks of the show. "We did not want to wait until the end of the season when we normally have the reunion show," executive producer Martin Hilton told EW. "They each have their say. They were quite emotional in terms of how they felt, DeMario in particular. It was really heartbreaking to see what he had to say."
Hilton added that he and executive producer Mike Fleiss "debated back and forth" about what to do with footage of the incident in question, but decided against broadcasting it. "Because of privacy issues and what the media might make of it, it's really not fair to even release anything about that particular moment," Hilton said. "What happened leading up to it and seeing how they related, however, is going to be on TV." Bachelor in Paradise will return August 14.