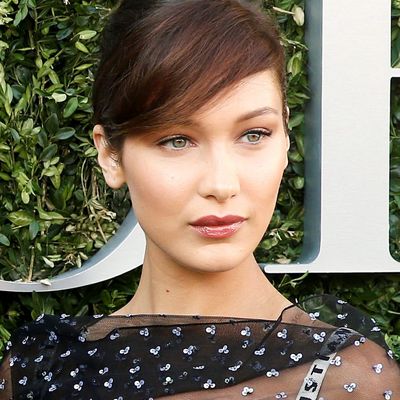 Bella Hadid is in a relationship with this woman.
Photo: GEOFFROY VAN DER HASSELT/AFP/Getty Images
Bella Hadid is no stranger to heartbreak. First, she broke up with a horse. Then, she broke up with the Weeknd. But thankfully, the Blue Man Group member has finally found love again — apparently, with herself.
The supermodel recently tweeted about her relationship status, telling her followers, "Just to be clear…i'm STILL not dating any of my best friends, y'all! In a committed relationship with myself & my happiness for now," alongside an indecipherable code of emoji, including praying hands, a diamond ring, a heart, and a smiley face tilted 45 degrees counterclockwise. The comment came a few hours after Hadid was spotted hanging out in New York with DJ Daniel Chetrit and a friend.
Luckily, we know of a resort in Mexico where Hadid can make that relationship official by marrying herself.