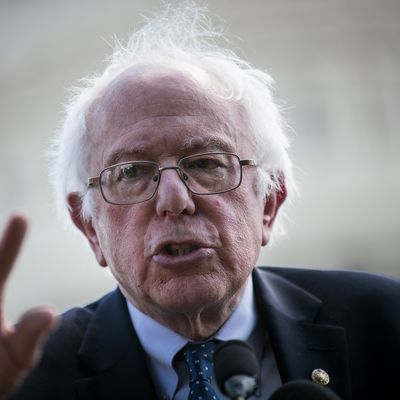 Bernie Sanders.
Photo: Drew Angerer/Getty Images
Regardless of your stance on whether he would have won the presidential election, there is an undeniable truth about Bernie Sanders that you simply must admit: He is now a YA author.
As the Guardian reports, the Vermont senator has a new book coming out on August 29, aptly called The Bernie Sanders Guide to Political Revolution — a YA adaptation of his best-selling adult book, Our Revolution. Publisher Henry Holt said in a statement that the book's goal is to help the younger generation "fight for a progressive economic, environmental, racial, and social-justice agenda that creates jobs, raises wages, protects the environment, and provides healthcare for all."
Sanders notes in the book's forward that he received more votes from young people than both Donald Trump and Hillary Clinton combined during the presidential race. "It is my observation that the current generation of young people is the smartest, most idealistic, and least prejudiced generation in the modern history of the United States," he writes, per the Guardian.
The former Democratic presidential candidate continues, "This is a generation that is prepared to think big and move this country in a very different direction than we have been traveling for years. It is especially prepared to reject the value system espoused by Donald Trump and the right-wing reactionaries in Congress who support his ideas."
We'll be sure to wear Balenciaga to one of his book signings.