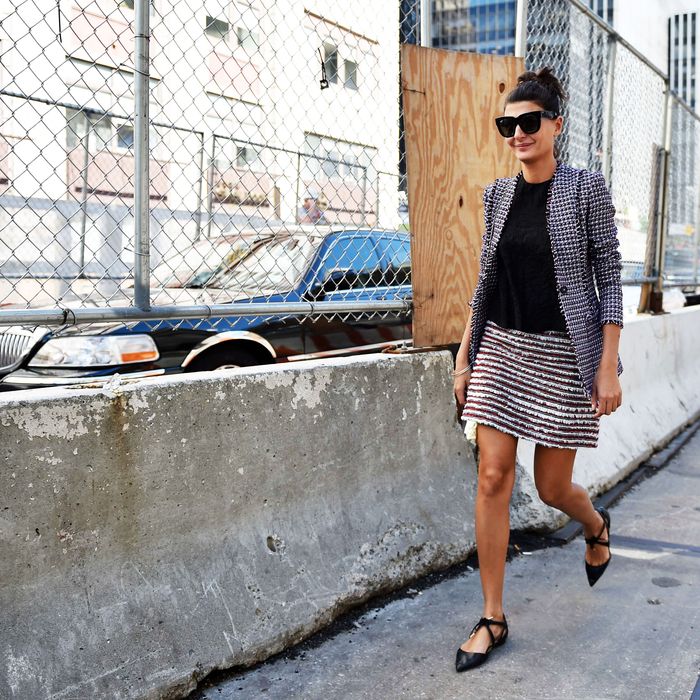 Figuring out what to wear to work shouldn't be a bore. To make your weekdays easier, welcome to Business Casual. Every Wednesday, we'll highlight the best office-appropriate clothes, whether it's for the job you have or the one you want.
It's a given that important meetings call for an outfit that conveys power, like a perfectly tailored sheath dress and sharp heels. But those moments are the exception; most of the time, you just want to be comfortable while still looking professional. That's where these flats come in. They're simple, chic, and easy on the feet, even after a day of running around. Plus, they're all under $150, so you won't feel guilty when you inevitably wear them ragged. Scroll ahead to check them out, and don't worry — if an emergency comes up, you always have those desk heels stashed away.
Three years later, the Céline-by-way-of-Zara (or in this case ASOS) appeal hasn't faded. These sleek red flats are a pretty good dupe courtesy of one detail: the black soles and matching lining on the interior of the shoe.
This is definitely the year of the grandma shoe, and these flashy rounded flats are yet another way to wear the trend. The leather is super soft, so you won't get any blisters.
If you want a classic option, you can't go wrong with black suede. They work just as well with a weird artsy dress as they do with a traditional sheath dress.
The Weekday-to-Weekend Option
Photo: REVOLVE STILLS #1
No one actually wants to wear their work clothes come the weekend, but these pale-blue lace-up flats don't scream corporate drone. They'll look just as good with a summer dress as they do with black pants.
The Festive Summer Option
Because you still have one month to embrace warm weather and the gingham that comes with it.
The reviewers on J.Crew's site love these shoes due to their padded soles. The only downside is that they run small, so order a half-size up.
The Ones Most Likely to Sell Out
Everlane's perfect balance of comfy, affordable, and stylish means that its shoes — like its spin on the Birkenstock — have sold out quickly. You know these aren't going to last long, either.
A Subtle Alternative to Basic Black
So your office is pretty conservative, but you already own a closet full of black flats? Try this khaki shade — it's just as professional and appropriate.
If you buy something through our links, New York may earn an affiliate commission.