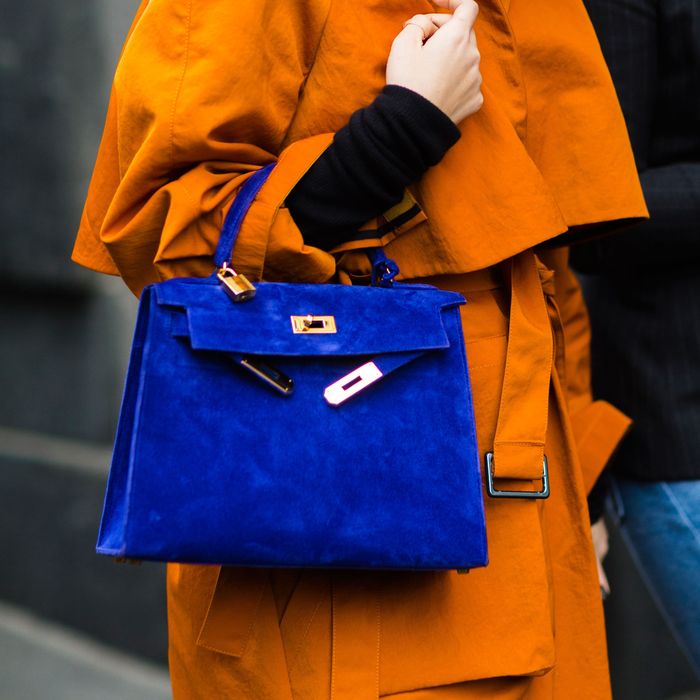 The ultimate power bag.
Photo: Nabile Quenum
Getting dressed for work shouldn't be a bore. Welcome to Business Casual— here to make your weekdays easier.
Some days, all you need for work is a roomy tote bag that can carry your gym clothes. Some days, you want a tiny shoulder style, something pretty that can take you from the office to dinner on a Friday night. And some days — big days, nerve-racking days, career-making days — you need a power bag.
A power bag is the confidence-boosting carryall that you take into a big meeting or job interview. The brand and price tag might vary, but all power bags have the same characteristics: structure (to project authority), space (so you can bring your laptop or iPad with you), and a solid-colored exterior (anything else can look unserious.) Even if the interior is full of crumpled receipts and Luna Bar wrappers, a power bag makes you look like you have your life together. Scroll ahead for 12 of our favorites at every budget.
Ready for that assistant job? Upgrade from your fast-fashion purse to this real-leather purse.
The Bag Equivalent of a Xanax
Focus on the calming blue tones of this bag and take some deep breaths to drive those interview jitters away.
Original Price: $298
The Bargain Buy (That Doesn't Look Like One)
Because you're still a student trying to land her first internship.
The One That's a Tiny Bit Trendy
The edges of this bag hint at fall's big Western trend without making you look like you moonlight as a cowpoke.
Yes, she usually carries tiny clutches, but can't you picture this pale pink style with her conservative-yet-stylish dresses?
The Red Statement Bag (For Creative Gigs)
Because you want people to notice your sense of style.
The Red Statement Bag (for Corporate Types)
The patent leather looks slick but not flashy.
The Mid-Level Investment Bag (for Corporate Types)
The Mid-Level Investment Bag (for Creative Types)
Or, if you work in an arty environment: Always bet on Marni.
Original Price: $1,800
Here's a good deal on a minimalist leather tote.
Original Price: $1,630
A Non-Black Bag You Won't Regret
Dark gray is more interesting than classic black, but this still looks very professional.
Because You Already Own Their Tote
This pretty, ladylike bag is the perfect companion to your minimalist Mansur Gavriel tote.
If you buy something through our links, New York may earn an affiliate commission.