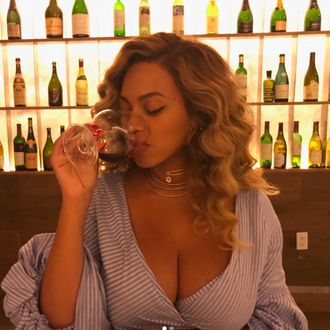 Beyoncé's date night Friday.
Photo: @Beyonce/Instagram
Beyoncé and Jay-Z hosted a small roller skating party at Los Angeles's World on Wheels skate rink Friday night, TMZ reports.
The couple have frequently been seen out and about since the birth of their twins, Rumi and Sir.
Beyoncé, who was dressed in ripped jeans and a black top, is reportedly a very good skater. According to Us Weekly, she was spotted singing along to the music, and doing the splits. TMZ reports she did a few laps with the hoi polloi, before she was hounded by fans. Around 12:30 a.m. the rink was apparently shut down for her own private skating session.
Watch the Instagram video she posted from skate night, below.