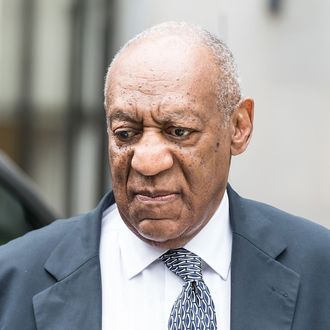 Cosby.
Photo: Gilbert Carrasquillo/WireImage
Bill Cosby has been granted a new start date for his sexual-assault retrial. The comedian appeared in Pennsylvania court on Tuesday with his new lawyer Thomas Mesereau in tow to request that his retrial for the alleged 2004 assault and drugging of Andrea Constand be postponed from its original start date of November 6. Montgomery County judge Steven T. O'Neill has now set the retrial to tentatively begin between March 15 and April 1, 2018, though it may start earlier depending on jury selection or unforeseen scheduling issues.
At Tuesday's hearing, O'Neill also decided, with Mesereau's cooperation, that the jury for this new trial can be selected locally from Montgomery County; the jury at the original trial was selected from Pittsburgh as part of a compromise with Cosby's former legal representation, who argued local jurors might be biased against Cosby due to a previous local political campaign on the prosecution's side. O'Neill also granted the motions for Cosby's two lawyers in the first trial, Brian J. McMonagle and Angela Agrusa, to leave the case, per their request. That June trial ended in a hung jury after 52 hours of deliberation. Cosby will now face the three counts of aggravated indecent sexual assault next spring.