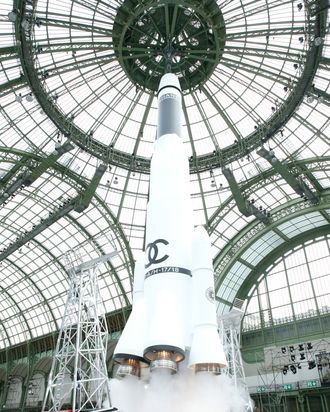 Chanel fall 2017.
Photo: Bertrand Rindoff Petroff/Getty Images
Everywhere you turn, from Brooklyn to Paris to Mars, people are suddenly wearing what looks like space gear.
At Paris Fashion Week last season, Karl Lagerfeld launched a literal rocket for the finale of his fall 2017 Chanel show, which featured cosmic prints, shimmering silver space boots, and planetary purses. In Milan, Gucci presented an out-of-this world fall show set in a postapocalyptic greenhouse, and the accompanying campaign starred a UFO, friendly aliens, plus references to Star Wars and Star Trek — both of which, not coincidentally, had recent Hollywood reboots.
Earlier this spring, the space trend made its way off the runway and onto the streets. The artist Tom Sachs, who is known for his "Space Program" installations, teamed up with Nike to remake his Mars Yard sneaker. To acquire it, sneakerheads had to complete an arduous "Space Camp" on Governors Island. At the finish line, in addition to the shoes, participants received Nike x Tom Sachs T-shirts and shorts with the NASA logo, as well as a "Mission Accomplished" patch.
In March, Kanye West allegedly launched a mysterious website titled "NASA Kanye West Project 10," which consisted of "spaced out" mission patches. And although Def Jam denied any relation to the rapper, the patches still sold out at the speed of light. (Side note: The NASA Jet Propulsion Lab is about an hour away from West's headquarters in Calabasas, California.)
Finally, you can even find an array of NASA shirts, bomber jackets, and hats at Urban Outfitters — the last leg of any trend's journey.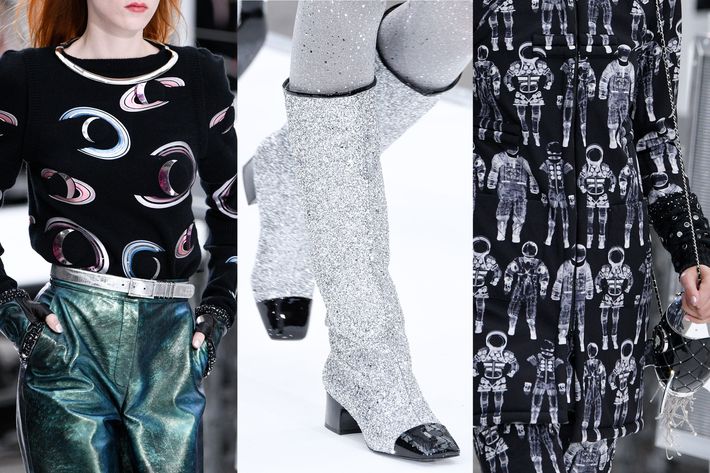 Paging mission control: What is going on here?
"NASA is the best brand the United States has," declared famed pseudoscientist Bill Nye over the phone this summer. "Everywhere you go in the world, people may not like the United States, but they respect NASA."
In addition to walking the runway with former astronaut Buzz Aldrin at Nick Graham's New York Fashion Week men's show, Nye has a line of eclipse sunglasses to promote, which he says are "very stylish" and have already sold out. (ICYMI, a total solar eclipse will take place today.) Nye is a bow-tie connoisseur himself, so he knows a thing or two about space, but also fashion. He claims that one has always romanticized the other: Space is shiny and sleek, and fashion is always looking to infinity and beyond.
It's true: Fashion has been fascinated with the "Space Age" trend since the early 1960s when designers like Paco Rabanne and André Courrèges were inspired by the space race and movies like Barbarella. But in 2017, with the Earth becoming increasingly uninhabitable and people like Elon Musk making space travel feel like a reality, this second wave of the Space Age trend feels less like an optimistic fantasy and more like doomsday prep. Will NASA be the best brand in the United States because we'll count on it to survive? Maybe it's time to invest.
Bill Nye the Science Guy has a less bleak read on why fashion is suddenly looking to space again:  "Space brings out the best in people, because it's inherently optimistic," he said. "You're dipping your toes in the cosmic ocean. We're exploring, and when you explore, you're going to have an adventure. That's what fashion is all about."