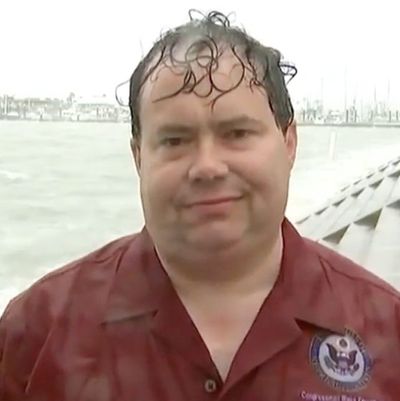 Texas Rep. Blake Farenthold was…ill prepared.
Texas congressman Blake Farenthold was last in the news for expressing his desire to duel female senators who were poised to vote down the GOP's bill repealing Obamacare (after which Susan Collins, one of said female senators, put him in his place). Before that, he made headlines for supporting a proposal to gut the Office of Congressional Ethics, and before that he was accused of sexual harassment by a former staffer. So it's not entirely surprising that some are seeing his live interview with MSNBC Friday afternoon as a form of karmic intervention.
Farenthold represents Texas's 27th congressional district, which includes areas in the path of Hurricane Harvey — a Category 3 hurricane that's fast approaching the Texas coast. So this morning, CNN had Farenthold on air to discuss last-minute preparations for the storm.
That part went fine, but a few hours later MSNBC interviewed Farenthold, and, well …
"We Texans are resilient," he said, by way of reassurance. That's … comforting.