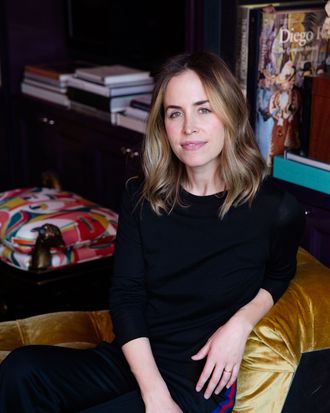 Brett Heyman.
Photo: Taylor Jewell
Growing up, Edie Parker founder Brett Heyman had no idea that her affinity for vintage would evolve into a booming specialty-handbag business. Despite a lifelong love for design, Heyman says that she "grew up in a practical household," so she instead decided to pursue communications at Syracuse's Newhouse School. "I never thought I could be a designer, ever, and I felt like PR was a great way to use what I'd learned in communications and get into fashion," she says. A lucrative PR career followed, with jobs at Gucci and Dolce & Gabbana and frequent travels around the globe.
But seven years ago, after giving birth to her first child (she now has three), Heyman began to reevaluate her job options. "Having a child made me think that if I was going to leave my baby to work, I wanted it to be for something a little bit more personal and fulfilling," she recalls.
A book on midcentury style that she read while on maternity leave soon sparked an idea. "It occurred to me that there was really nobody focusing on evening bags as a category," she says. "It was either a really ornamented 'madam' bag that you'd wear once and put up on a shelf, or miniature versions of best-selling bags" from designers. Taking a cue from the acrylic clutches of the '50s and '60s (favorites from her ample vintage archive), she set out to fill the gap.
Thus was born Edie Parker, named after the daughter who, in a sense, inspired the brand. Heyman's acrylic clutches, many of which are emblazoned with words like "Kale" or "Weed," were an instant hit with celebrities and the fashion cognoscenti. Clients now devour Edie Parker's customizable options like candy, often going beyond the expected (e.g., their names or initials) in favor of bolder statements like "Divorced." In 2015, Huma Abedin carried a Hillary-themed one. "People have even put their phone numbers on a bag," Heyman adds.
What handbag slogan best captures her personality? "Nice,'" Heyman says, "but it would also have a wink."
Below, the designer speaks to the Cut about her dream trip, guilty TV pleasures, and getting trolled on Instagram. Read on for the full Q&A.
How do you thank people for a gift?
I send tequila, always. A bottle of 1942 Don Julio; or there's a really pretty blue and white bottle of Clase Azul Reposado. Just something that's delicious and looks good on a bar.
Color or no color on your nails?
I wear no polish, and it infuriates my Instagram followers. They comment all the time. Which I guess I understand, because I'm always holding a bag, and there's a close-up of my nails. It really makes people mad that I don't have a manicure. [They'll comment] "Couldn't you get a manicure?" My nails, by the way, are groomed, short, and clean. It's not like they're overgrown, but people get furious.
Mood lighting or natural light?
Mood.
What are some coffee-table books that you would love to display?
I'm a big coffee-table-book person. I collect the big books from Taschen and Assouline. My favorites are all the "impossible collections" that they do, like The Impossible Collection of Jewelry, and The Impossible Collection of Art. Then I also have a really rare jewelry book, Rene Boivin Jeweller, which is out of print. It's what all jewelry aficionados have.
When I was in high school, the Sumo Helmut Newton book came out, and I wanted that for years and years, and then my husband got it for me for some anniversary. That's an amazing one. It's huge. It's got to be on a stand to flip through it. We have so many books it's almost embarrassing. When we opened the Edie Parker boutique in February, I had to take 50 books off my floor to display in the store, because there's no room for them.
Heels or flats?
Always flats during the day, but I'll throw on the big-girl shoes for nighttime. I love a loafer from Gucci or Céline. For heels, I wear those new Dior slingbacks all the time; and I love the Paul Andrew for Ferragamo. Those are super groovy.
What would you never wear?
I could never pull off oversized shoulder pads. I'm broad to begin with, and I look cartoonish.
What trend do you like right now?
Political consciousness.
What's your favorite song on your playlist?
Typically I'm a classic-rock person, but I have a new appreciation for the '80s. I watched a documentary on the '80s called Video Killed the Radio Star. So lately I'm listening to just all the '80s stations on Sirius, and I'm loving it. The range of music, starting from new wave to early hip-hop, is fantastic.
If you were a car, what kind of car would you be?
I quote the Eagles: "It's a girl, my lord, in a flatbed Ford." I feel like I want to be that girl in that car. I'm classic. I'm sturdy. I'm dependable. I can carry a lot of kids. I'm cool.
No-makeup makeup, or actually no makeup?
I wear makeup, but minimal. I wear Nars tinted moisturizer, and I'll throw on some Nars blush if I look peaked, and I'll wear Givenchy mascara. I used to be really into kohl-rimmed eyes, but I sort of stopped doing that, because I've gotten lazy. But I recently got a brown eyeliner from Nars, and like Bette Davis, I'm doing the inside sometimes when I go out.
What's your go-to salon?
When I get a blowout, it's from Chris at Sharon Dorram at the Sally Hershberger Uptown. I get color at Lena Ott.
Dream vacation?
A safari, and then the Seychelles — that's big on my bucket list.
Which decade would you like to live in, and why?
I feel like if you could be alive in 1968, and be in your early 20s, that's pretty cool, but right now's not bad either.
What's one way that your taste has changed since you were a teen, and one way it's stayed the same?
I really "got dressed" when I was younger. I went thrifting; I went to vintage stores. I still love looking put-together, but I don't put the effort in anymore. I value comfort. I think as you grow up, you get more comfortable in your skin, and your tastes reflect that. You just don't need to put on all these layers. But I still love clothes.
What's your guilty pleasure?
I'd say it's a combination of vodka and Bravo. They go hand in hand.
What are your favorite accounts to follow on Instagram?
One of them's called @thecabinchronicles, and one is called @cabinlove. They do these pictures of these perfect little log cabins in different locales.
What's the last show you binge-watched?
The Defiant Ones on HBO; it's about Dr. Dre and Jimmy Iovine. I don't go to bed late, but I started it at like 9, and I just had to watch all four episodes that night. I just powered through them. I loved it.
What's your favorite pair of jeans?
I wear a lot of vintage Levi's, but my favorite is a pair of Balmain men's jeans that are truly the perfect boyfriend jean.
T-shirt?
Current/Elliott. They have an oversized tee that I'm wearing now. Also, I just discovered the '70s tee from Vince, which is amazing.
Pajamas?
I don't wear pajamas, but I do like Equipment pajamas, because they come in really cute pouches that match — I just think that's kind of darling.
Flower?
You're talking to me from East Hampton, and the peonies are in bloom, and the hydrangeas, too. I also love magnolias. I have a magnolia tree outside my house in Connecticut, and it blooms so briefly, but it makes me so happy when it does.
Chocolate?
I kind of have pedestrian tastes. I like Lindt dark chocolate with sea salt.
Fragrance?
Fracas. Classic. And anything by Jo Malone. It's just so delicious.
Sheets?
I love all the peacock prints from D. Porthault.
Lip balm?
Baume de Rose from By Terry.
If you buy something through our links, New York may earn an affiliate commission.