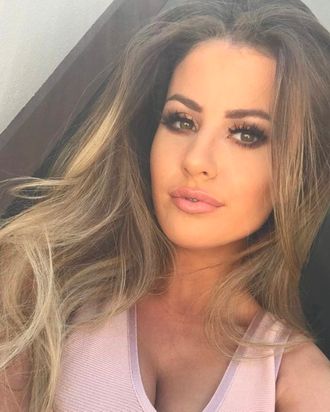 Chloe Ayling.
Photo: @chloeayling/Instagram
British model Chloe Ayling, 20, is speaking out after reportedly being kidnapped from a Milan photo shoot in July to be sold on the dark web's human-slavery market.
This comes as news broke this week that 1,000 people had been arrested in the U.S. in a massive sex-trafficking sting for attempting to buy or sell sex.
Ayling was reportedly drugged, transported in a travel bag, and kept for a week in an isolated location near Turin. Meanwhile, her captors negotiated to sell her for on the dark web for 300,000 Euros in bitcoin, The Guardian reports.
"I think I lost consciousness. When I woke up I was wearing a pink bodysuit and the socks I'm in now. I realised I was in the boot of a car, with my wrists and ankles tied and my mouth taped. I was inside a bag, with only a small hole that allowed me to breathe," Ayling told the Italian newspaper Corriere della Sera.
Ayling's alleged captor has been identified as Polish-born Lukasz Herba, 30, who works with the Black Death Group, a sex-trafficking organization.
Ayling was eventually released to the British consulate in Milan, when her captors reportedly found out she had a 2-year-old son. After her release, the Black Death Group reportedly sent Ayling a letter threatening her, demanding $50,000 in bitcoin, the Daily Mail reports.
"You are being released as a huge generosity from Black Death Group…

You are certainly aware of your value on human slavery market (sic) and must make a note that this isn't personal, this is business. Any sort of disobedience with the above will result in your elimination."
Ayling is currently safe at home with her family in London.