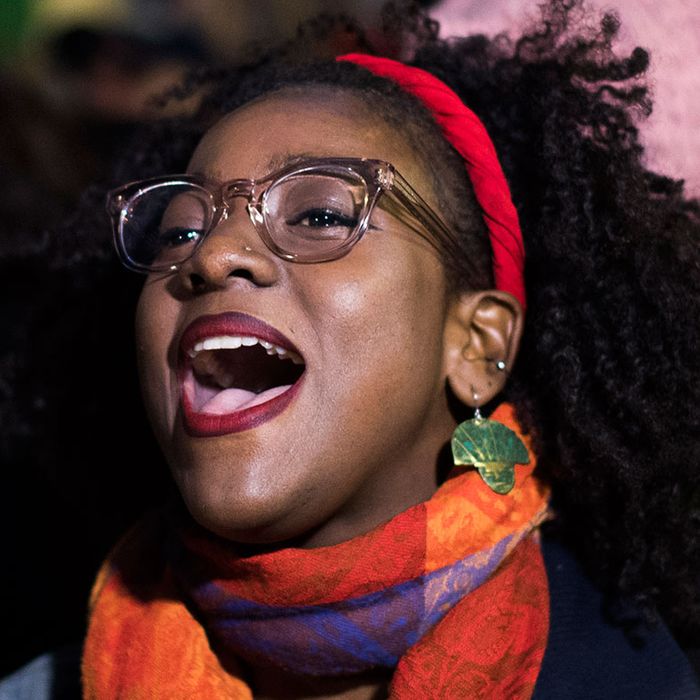 A woman marches through West Village on International Women's Day.
Photo: Drew Angerer/Getty Images
On Wednesday, August 23, an email with the subject line "Fuck Nazis. Fuck White Supremacists" appeared in my inbox. I opened it and scrolled through the Broad Memo, a weekly "action letter" from an women-only activist organization called the Broad Room. Founded by three, two current and one former, de Blasio aides, the organization aims to teach anyone who identifies as a woman in New York City how to resist the right-wing agenda.
This week's issue focused on the protests in Charlottesville, Virginia, and it was refreshingly direct. "The bigotry and violence the nation witnessed in Virginia earlier this month don't exist in a vacuum," it read. "This week, we're talking about the dangers of covert white supremacy, and some ways to stop passively allowing this system to continue." It goes on, via its "Learn It," "Do It," and "Talk About It" sections, to discuss the ways in which white supremacy permeates everyone's lives, and to list ways readers can respond (by taking eight actions recommended by Charlottesville organizers, for example).
"One of this group's driving principles is that being passively against something isn't enough," Monica Klein, one of the Broad Room's three co-founders, said. "You constantly need to take action."
This issue in particular was meant to drive that point home. "Our organizing committee is very diverse, but the three of us are white women," said Elana Leopold, another co-founder. "One of Heather Heyer's relatives said it took a white woman getting killed by white supremacists to realize that racism is inherent. In this issue, we wanted to nail that."
Similar to political activist organizations such as Women's March, Rise and Resist, and Indivisible, the Broad Room sprung up in the wake of Donald Trump's election. Klein and Leopold, along with their friend and colleague Anna Poe-Kest, were frustrated by the election's results and realized that they were uniquely positioned to do something about them. "Because we work in politics, we have access to people who have been doing this for decades," Leopold said. "We wanted to make our resources available to help other people."
In addition to sending out the Broad Memo to about 1,200 subscribers (the vast majority of whom live in New York), the group holds free monthly trainings to teach members how to understand — and change — their system of government. At their first phone-banking event, they hosted Regina Schwartz, former deputy director of the Analyst Institute and current director of the mayor's Office of Public Engagement, to speak to attendees. According to Klein, Schwartz worked for a think tank that looked at which phone-banking questions ensured the greatest percentage of "yes" votes, and she and her co-workers presented their findings to national Democratic campaigns. In other words, she had an insider's perspective of politics that could prove incredibly useful to women looking to hack the system.
"It was a good reminder that women we know as friends and colleagues have these [incredible] résumés," Klein said. "We want to share that network with the broader community of young women in the city."
By doing so, Klein, Leopold, and Poe-Kest hope to motivate women in New York to contribute to the wider web of resistance networks across the country. "We're speaking to a niche group," Klein said. "We understand what these women are looking for. And honestly, there will never be enough groups organizing until we've won."