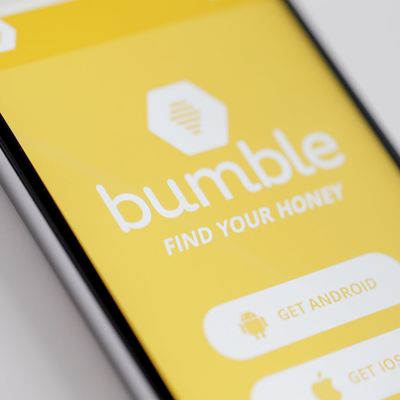 Photo: Jaap Arriens/NurPhoto via Getty Images
Bumble — the dating app in which only women are permitted to send the first message to male matches — has long positioned itself as a far more female-friendly option than its competitors. Their company, however, sounds decidedly unfriendly to any and all people who happened to be located within the same building as their corporate headquarters.
A new article in BuzzFeed reveals that Bumble HQ used to be located within a two-bedroom apartment in the Bowie, a luxury high-rise in Austin, Texas, and a residential building, not one zoned to house a company of over a dozen people. It boasts "a 24-hour concierge service, multiple fire pits, a dog grooming room, a coffee bar, and electric vehicle charging stations" so it should be stressed that it seems as if, Bumble nuisance aside, the residents are doing perfectly fine for themselves. Also, this drama is brought to you by late capitalism.
One anonymous resident told BuzzFeed that "Bumble folks are generally obnoxious, entitled, and treat the Bowie like their corporate office." Here are some further allegations of the staff's bad behavior:
One resident reported seeing a Bumble employee — on a conference call in the hallway — shush another resident who was showing her mother the building.
Still another source of tension was the parking lot, where residents paid a monthly fee of more than $100 for a space. According to multiple sources, Bumble employees would frequently follow each other into the lot and take paid spots.
And the most deranged:
One Bowie resident described an incident in which a Bumble employee asked for his assistance while he was walking through the lobby. As he approached the Bumble employee, she held up her phone and informed him that he was on the "Bumble Kiss Cam," at which point a second Bumble employee tried to kiss him.




"I said, 'that's assault,'" the resident recalled. "That's completely inappropriate. I'm in a private residence."
A Bumble spokesperson told BuzzFeed that "the building management was fully aware of our operations and never once issued us a complaint of any kind." Bumble moved out of the building when their lease ended two weeks ago, leaving their former neighbors free to enjoy the dog-grooming room in peace.