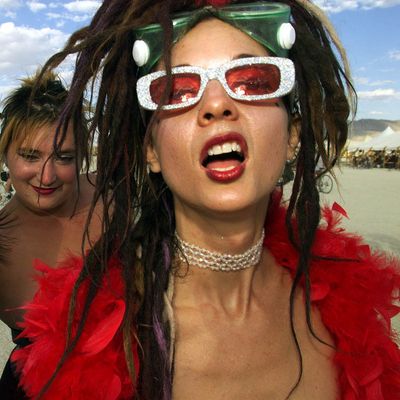 Photo: HECTOR MATA/AFP/Getty Images
While Burning Man is all about "radical self-expression," there are some rules.
Of course, the first rule of Burning Man is to tell everyone that you're going to Burning Man — and then never stop talking about it after the fact, even though it's a life-changing experience that you couldn't possibly describe in words. But then somewhere down the line, you've also got to find outfits for Burning Man that simultaneously set free your mind, body, and soul, and also adhere to the festival's strict no-MOOP policy.
What is, MOOP, you ask?
A Burning Man–specific acronym for "Matter Out Of Place," MOOP encapsulates yet another rule of the festival, which is to leave no trace. And in the context of the desert, rogue sequins and feathers are certainly not organic. Even the tiniest speck of glitter in a mountain of sand could be considered "out of place."
So, according to a New York Times article that interviewed Burning Man attendees and store owners about what to wear and where to shop for the festival: "All costumes have to be "de-MOOPed" for the event." We can only assume this translates to: glue that shit down, or avoid it altogether.
Really, though, we know what this means. "De-MOOP?" More like, get naked.